Percy Jackson & the Olympians: The Lightning Thief
(2010)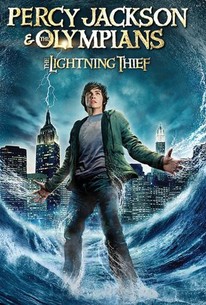 TOMATOMETER
AUDIENCE SCORE
Critic Consensus: Though it may seem like just another Harry Potter knockoff, Percy Jackson benefits from a strong supporting cast, a speedy plot, and plenty of fun with Greek mythology.
Percy Jackson & the Olympians: The Lightning Thief Videos
Percy Jackson & the Olympians: The Lightning Thief Photos
Movie Info
A teenager discovers he's the descendant of a Greek god and sets out on an adventure to settle an on-going battle between the gods.
Critic Reviews for Percy Jackson & the Olympians: The Lightning Thief
Audience Reviews for Percy Jackson & the Olympians: The Lightning Thief
½
This enjoyable and harmless adventure directed by Chris Columbus is entertaining enough as it makes nice references to Greek Mythology gods and creatures, and it features a very amusing performance by Uma Thurman as the Medusa.
Carlos Magalhães
Super Reviewer
Once a film franchise has established itself, other similar franchises often follow it, haging on the coattails of its success and trying to cash in by appealing to the same audience. The fantasy genre has been rife with this in recent years, with the huge success of The Lord of the Rings prompting new adaptations of The Chronicles of Narnia as well as smaller works like Stardust and Eragon. Crucially, while the quality of these films varies, none of them quite come close to the series that blazed the trail. We find ourselves in a similar situation with Percy Jackson. At the time of its release, the Harry Potter series was winding down, with Deathly Hallows Part I in production and Part II not being far behind. Its release date was clearly timed to plug the gap between Potter films, giving teenage fantasy fans something to snack on in between meals. But despite any admiration for the story's intentions and its interesting nods to Greek mythology, the Lightning Thief is ultimately mediocre. Try as we might, there's no getting around the comparison between Percy Jackson and Harry Potter. No matter how popular the source materials may be among teenage audiences, there is a strong argument that this film would not have been made without the financial success of the Potter franchise. Whatever you may think of them, both Harry Potter and Twilight demonstrated the commercial mileage in teenage/ young adult fantasy films; their consistent commercial success resulted in the likes of Percy Jackson and The Hunger Games being brought to our screens. Without their success, Jennifer Lawrence might still be a nobody. This comparison becomes all the more inevitable by the involvement of Chris Columbus, who directed the first two Potter films (Philosopher's Stone and Chamber of Secrets) before transitioning into a production role on Prisoner of Azkaban. While the Potter series really took off after Alfonso Cuarón took over the reins, Columbus has since failed to replicate his earlier successes, turning in embarrasing failures like Rent and I Love You, Beth Cooper. One could almost view his involvement here as a form of regret, trying to atone for what he sees as a mistake (though almost no-one else shares his view). There's no denying that Percy Jackson and the Lightning Thief comes at you with the very best intentions. However good or bad its execution, it deserves some credit for attempting a noble task, namely trying to repackage the classic Greek Myths to inspire a new generation. From this point of view the film is attempting the very same thing that Mark Gatiss and Stephen Moffat attempted with Sherlock, or that Kenneth Branagh was doing when he made his great Shakespeare adaptations. In each case, the creative forces behind the projects recognise the hardy nature of the tales they are telling: the Greek Myths are as indelible and influential a force on our culture as Sherlock Holmes, Shakespeare or Count Dracula. But equally, the creative parties recognise that young people will not fall in love with these stories purely on the basis of their reputations: they have to be told these stories in a way which resonates with the world in which they find themselves. These stories are to be respected, but they have to earn that respect by being brought to life in a compelling and imaginative way. Unfortunately, while their intentions may be similar, that is where the comparison ends as far as Percy Jackson is concerned. For all the times that Branagh has slipped up, and all the complaints I have lodged against Sherlock in recent times, Columbus has never come close to matching their talents or aspirations. He is at his most basic level a bean-counter, someone who directs with an eye on the box office rather than the storytelling, and who will purposefully compromise the finished product to avoid the wrath of fans. By attempting to cram in every last detail of the book, Chamber of Secrets ended up being overly long and frequently tedious. There are a number of nice little touches throughout Percy Jackson which succeed in bringing elements of the Greek Myths to life. It makes perfect sense that the winged sandals of Perseus would now be winged sneakers: both reflect the agility of their central protagonist in a popular manner. It also makes sense for the Den of the Lotus Eaters to be a Las Vegas casino: both are symbols of the power of greed and the dangers of valuing material satisfation over higher virtues. These touches aren't that different from the changes made in Sherlock, retaining the nature of the source material in a way that fans will recongise. These touches are also reflected in the film's casting. Uma Thurman is usually very wooden, but she's very well-cast as Medusa; if nothing else her lingering delivery comes across a lot better than her work as Poison Ivy in Batman & Robin. Sean Bean is the natural choice for Zeus, exuding charisma even though he doesn't have a great deal to do in the story. Steve Coogan also makes the most of Hades, though he's very much in the shadow of James Woods, who gave a memorable performance in Hercules. The problem, however, with Percy Jackson is that these nice little touches are not always executed with enough panache. It's all very well having nods to mythology here and there, but if these nods are not combined with a compelling story, or integrated into it, then all they amount to is a pretty surface, like delicate patterns of milk on a cold cup of burnt coffee. Columbus simply isn't good enough to use these creative elements to lift the more generic aspects of the plot, resulting in a film which isn't memorable enough to stand on its own. Much of the problem lies in the film's uninspiring CGI. Like any other kind of special effect, CGI is at its most effective when we're unable or unwilling to tell where the real world ends and the make-believe begins. If any one kind of effect is overused, it draws attention to itself and the suspension of disbelief is compromised. Percy Jackson suffers greatly from this, turning to CGI whenever the mood takes it and thereby coming across as rather cheap. A lot of the effects in Percy Jackson are really poor. On several shots of Pierce Brosnan's centaur body, you can still see the rough brushstrokes where the CG artists finished the colouring process too quickly. Steve Coogan's transformations into Hades don't feel properly to scale, and in the museum battle the monster keeps changings size according to the demands of a given shot. There's nothing quite as horrendous here as in, say, The League of Extraordinary Gentlemen, but errors like this really take us out of the drama. As for the drama itself, it's rather tepid. Effects notwithstanding, the set-pieces in the film are pretty exciting and don't outstay their welcome. But the dramatic exchanges in-between are where the film retreats into generic convection and often gets bogged down. The script comes from Craig Titley, whose other credits include the first Scooby-Doo movie and episodes of Star Wars: The Clone Wars. In other words, he's much better at effects-laden set-pieces than character drama, and this film is crying out for more of the latter. Much like I Love You, Beth Cooper, the main characters in Percy Jackson feel less like actual teenagers and more like outdated Hollywood stereotypes. They're far less obnoxious than their Beth Cooper counterparts, but they're still thinly written with not enough room for development. The three main players make a decent fist of their roles, and it's refreshing to have a female character whose relationship with her male counterparts isn't defined solely in terms of a potential romance. But ultimately there's nothing about Percy, Grover or Annabeth that's as memorable or entertaining as Harry, Ron and Hermione. Percy Jackson and the Lightning Thief is a disappointing and derivative blockbuster, whose admirable intentions are undone by leaden direction and lazy screenwriting. For all the little moments which successfully bring the Greek Myths to life, the film doesn't have enough dramatic energy to sustain itself, and its poor effects work against the power of its set-pieces. It's not terrible by any means, but it won't dislodge Potter from its perch any time soon.
Daniel Mumby
Super Reviewer
½
I had no idea there were so many kids books that could be made into films, they just keep popping up every year after Harry Potter opened the flood gates, and still none can compare to the kid with specs. This is close and probably the best rival yet but whilst watching I was still thinking of Potter, 'Clash of the Titans' and 'The Chronicles of Narnia', unfortunately for this film you just can't help but compare it to these films/stories and wonder if its just come along too late in the day. The film did get better as it went on but the acting is kinda average. Its a bit too silly in places with dumb lines, lame visual gags and apart from a great Hydra sequence the film is visually kinda average. The secret hidden camp where all the 'special' people train looks pathetic, like a Scout camp you would go to over the summer holidays, plus it only seemed about a 5min walk from a main road in the film? hardly well hidden. The best part as said was the Hydra attack, brilliant CGI with that sequence and really well played out, not really tense as you know no one will die (kids film!!) but its the best bit on offer, the rest ticks along steadily I guess. I'll say it again, the problem here is all the time your watching you can't help but think you've seen this all before. There's nothing new or special, its all been done now...quite a few times, so why make another film about the same kinda stuff?. Its never gonna beat Potter and this just seems rather repetitive I'm afraid. Shame because had it come out ten years ago it would of done much better I'm sure and not come across so stale. Hate to mention Harry flipping Potter so much but really...how can I not do? look at the title for pete's sake!. An awkward modern day setting for Greek mythology which works on some levels but fails on many others. The whole Medusa sequence with a dreadfully miscast Uma Thurman pretty much solidifies this if you ask me, the whole thing just doesn't feel right at all.
Phil Hubbs
Super Reviewer
Percy Jackson & the Olympians: The Lightning Thief Quotes
| | |
| --- | --- |
| Gabe Ugliano: | Woman! |
| Sally Jackson: | Hi Gabe. |
| Gabe Ugliano: | Where's my beer? |
| Sally Jackson: | It's in the fridge. |
| Gabe Ugliano: | So it's suppposed to magically float from the ice box and into my hand? |
| | |
| --- | --- |
| Luke: | Wow...that's a sword, that's a sword |
| Luke: | Wow...that's a sword, that's a sword. |
| | |
| --- | --- |
| Mr. Brunner/Chiron: | take this, it is a powerful weapon |
| Mr. Brunner/Chiron: | Take this, it is a powerful weapon. |
| Percy Jackson: | this is a pen |