Underworld
(1927)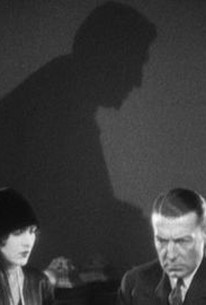 Movie Info
A series of "art" titles fill the screen to establish the mood: "A great city in the dead of night...streets lonely...moon clouded...buildings as empty as the cave dwellings of a forgotten age." Then, an explosion rips apart the front of a bank. Criminal mastermind Bull Weed (George Bancroft) having "closed another account," hops into the getaway car driven by his shabby but erudite associate Rolls-Royce (Clive Brook). With the police in hot pursuit, Bull Weed pauses long enough to drop a few bills into the tin cup of a blind beggar. Thus begins the classic gangland melodrama Underworld, a master blend of realism, expressionism and sentimentality served up by director Josef Von Sternberg and screenwriter Ben Hecht. The story traces Bull Weed's rise from common thief to underworld kingpin with the help and advice of the wily Rolls-Royce. Inevitably, Bull's sweetheart Feathers (Evelyn Brent), falls in love with Rolls-Royce, but she remains loyal to Bull. But when he's arrested for his participation in the murder of a rival gangster, Bull assumes that Feathers and Rolls-Royce have betrayed him. Breaking out of jail (a brilliantly conceived and executed sequence, in which sounds are conveyed in purely visual terms), Weed prepares to shoot down both his girl and his pal but discovers at the last minute that he's been wrong about them all along. Satisfied that Feathers and Rolls-Royce have remained true-blue, Bull Weed willingly surrenders to the Law. A true feast for the eyes, Underworld is essential viewing for anyone who thinks that all silent films are crude and old-fashioned; though the story creaks a bit, the techniques employed by Von Sternberg and his cinematographer Bert Glennon are as fresh and contemporary as anything being served up by the computerized filmmakers of today.
Critic Reviews for Underworld
Audience Reviews for Underworld
½
"Underworld" starts with Bull Weed(George Bancroft) robbing another bank which is celebrated by a fan, the Rolls Royce(Clive Brook) of Bums, just outside. In return, Bull takes him in and cleans him up. All of which is necessary before he takes him to meet his moll, Feathers(Evelyn Brent), at a bar to have a good time. But Buck Mulligan(Fred Kohler), a rival of Bull's, shows up to try and ruin things for everybody. "Underworld" gets off to a slow, awkward start before building to a memorable climax. What the movie is most concerned with is the concept of loyalty amongst the criminal classes where it is an even more valuable commodity than gold or friendship, for that matter. In this shadow world, it is complicated by the fact that these criminals are putting on a facade to convince the police and public that they are respectable.(Notice Buck's flower shop.) With all of that going on, it's hard for the hangers-on to tell how real the emotions sometimes are. Alternately, the criminals don't even try to fool each other, as the bribing for the queen of the ball is totally out in the open. And when Rolls Royce says he is not interested in women, is he saying what I think he is saying?
A really good gangster drama, it was actually pretty funny in some scenes too, I enjoyed it. The story has excitement, drama, and romance. The actors are good. The movie's got good cinematography too. If you like gangster movies, I'd recommend checking this one out.
Underworld is unquestionably the impetus of the "gangster film." Directed by one of the greatest visionaries of the silent era, Josef von Sternberg, this film was audacious and provocative for its time (so much so that Paramount only released it in one theater in New York, convinced that audiences would hate it). The thought of filming unfiltered violence, of glamorizing the mob world, of fleshing out and even showing sympathy to criminals was simply unheard of at the time. Granted, Underworld isn't as flamboyantly violent as some of the famous crime fllms of the '30s and '40s, but there are a number of stylistic touches that mark it as a definite progenitor of those films. For instance, just before the climactic gun battle Bull takes a sympathetic interest in an orphaned kitten, a motif reprised in the classic noir This Gun For Hire. Also, the Coens lifted this exact narrative structure for Miller's Crossing. Of course, there are von Sternberg's trademarks all over this film: the soft focus for emphasis, revealing close-ups, the expressionistic lighting, the heightened editing patterns, etc. He directs this film was an assured confidence -- which is kind of astonishing considering how much ground he was breaking. Those who enjoy the prohibition-era gangster films may be hesitant to watch a silent film without the trademark colorful dialogue of a James Cagney or Edward G. Robinson, but don't worry, this film more than makes up for it. Tough, tense, and tightly-written, every gangster film you've ever seen owes a serious debt to Underworld.
Jonathan Hutchings
Super Reviewer
Underworld Quotes
There are no approved quotes yet for this movie.