The 39 Steps
(1935)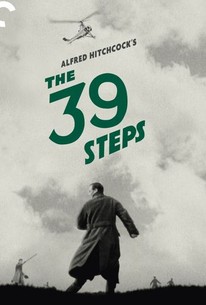 TOMATOMETER
AUDIENCE SCORE
Critic Consensus: Packed with twists and turns, this essential early Alfred Hitchcock feature hints at the dazzling heights he'd reach later in his career.
Movie Info
A man in London tries to help a counterespionage agent. But when the agent is killed and he stands accused, he must go on the run to both save himself and also stop a spy ring trying to steal top secret information.
News & Interviews for The 39 Steps
Critic Reviews for The 39 Steps
Audience Reviews for The 39 Steps
½
There are few things like a good thriller with a nice sense of humor, even though the humor doesn't always work here; and while it is well directed and has some clever twists, it relies on too many coincidences and gets weakened by a silly semi-romance that feels always forced.
Carlos Magalhães
Super Reviewer
½
A few years ago I saw the stage play of this and thought it was absolutely amazing. This film, not so much. Yes it's brilliant in the way the story weaves around all over the place, taking the audience on the adventure with Richard and Pamela, however something is missing. I didn't really care for either character at all. I wasn't bothered what happened one way or another. Not my favourite Hitchcock but a worthy film.
Sophie Burgess
Super Reviewer
A clumsy start to the directing dynasty Hitchcock would later build in America; The 39 Steps is unlike many of his other films in the way it's put together. Hitchcock would later make taut, sometimes action packed thrillers, all with ingenuity and a special zest that would saturate and identify his later films. This, made in his native England, is far from a disappointment. Though it doesn't possess inherent fear or a debonair protagonist, it does have this strange charm that he would never recapture in later films. For the time it was set it reads much more like a romantic thriller than a case of mistaken identity or reviewing a network of spies. Though the chasing of Hannay (Robert Donat) was at first overwhelming and tense, it becomes almost comical how he ends up in place after place. From hiding out in a country inn to being inadvertently thrust onstage to give a speech about a politician he knows nothing about, Hannay continually comes into contact with odd characters and irreverent townspeople. Much of the film is just his hiding out and people who have never met him helping to hide him from various spies, the police, and a bothersome blonde. Eventually the blonde (Madeleine Carroll) becomes the love interest and an ally in his quest to clear his name and stop a spy from leaving the country with viable secret government information. For an espionage film there isn't much in the way of action or strange, exotic accents, except for the first agent who gets killed off. Most of the film hinges on Robert Donat's performance, because it takes a considerable charm and gentility to make this film work without any of the core elements. Still, the film is quite entertaining and enticing. It has a lot of gimmicks and comes off as dated versus later films which are timeless, but this is still a great start to the Hitchcock empire.
Spencer S.
Super Reviewer