Abraham Lincoln
(1930)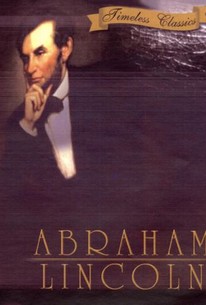 Movie Info
To date, this D.W. Griffith epic is the only talking-picture effort to encapsulate the entire life of Abraham Lincoln, from cradle to grave. The script, credited to Stephen Vincent Benet, manages to include all the familiar high points, including Lincoln's tragic romance with Ann Rutledge (Una Merkel, allegedly cast because of her resemblance to Griffith favorite Lillian Gish), his lawyer days in Illinois, his contentious marriage to Mary Todd (Kay Hammond), his heartbreaking decision to declare war upon the South, his pardoning of a condemned sentry during the Civil War, and his assassination at the hands of John Wilkes Booth (expansively portrayed by Ian Keith). This was D.W. Griffith's first talkie, and the master does his best with the somewhat pedantic dialogue sequences; but as always, Griffith's forte was spectacle and montage, as witness the cross-cut scenes of Yankees and Rebels marching off to war and the pulse-pounding ride of General Sheridan (Frank Campeau) through the Shenandoah Valley. Thanks to the wizardry of production designer William Cameron Menzies, many of the scenes appear far more elaborate than they really were; Menzies can also be credited with the unforgettable finale, as Honest Abe's Kentucky log cabin dissolves to the Lincoln Memorial. As Abraham Lincoln, Walter Huston is a tower of strength, making even the most florid of speeches sound human and credible; only during the protracted death scene of Ann Rutledge does Huston falter, and then the fault is as much Griffith's as his. Road-shown at nearly two hours (including a prologue showing slaves being brought to America), Abraham Lincoln was pared down to 97 minutes by United Artists, and in that length it proved a box-office success, boding well for D.W. Griffith's future in talkies (alas, it proved to be his next-to-last film; Griffith's final effort, The Struggle was a financial disaster).
Critic Reviews for Abraham Lincoln
Audience Reviews for Abraham Lincoln
This is the earliest biographical film about American president Abraham Lincoln, and is directed by D. W. Griffith. It stars Walter Huston as Lincoln and Una Merkel, in her second speaking role, as Ann Rutledge. The script was co-written by Stephen Vincent Benét, author of the Civil War prose poem John Brown's Body. This was the first of only two sound films made by Griffith. The film was not a hit at the time, which is understandable with all the inaccuracies in it. Later on, this movie was included as one of the choices in the book The Fifty Worst Films of All Time. But, it is not so bad! This is the early film making, and the significance is that we can witness the great D.W. Griffith's work, with all the good and bad things from the time. The first act of the film covers Lincoln's early life as a storekeeper and rail-splitter in New Salem and his early romance with Ann Rutledge, and his early years as a lawyer and his courtship and marriage to Mary Todd in Springfield. The majority of the film deals with Lincoln's presidency during the Civil War and culminates with Lee's surrender and Lincoln's assassination at Ford's Theater. The good thing about this movie is that covers some little known aspects of Lincoln's early life, such as his romance with Ann Rutledge, his depression and feared suicidal tendencies after her death, and his unexplained breaking off of his engagement with Mary Todd (although the film surmises that this was due to unresolved feelings over Ann Rutledge and adds a dramatic scene where Lincoln stands Mary up on their scheduled wedding day, which never happened). The early scenes of Lincoln's life are very accurate, but much of the later scenes contain historical inaccuracies. From the famous Lincoln-Douglas debates, to the depictions of some of the characters - General Winfield Scott is depicted as being overconfident of a quick victory (and something of a buffoon), when in reality he was one of the voices in the minority claiming the war would be long, and he would also have been taller than Lincoln at 6'5". At the climax of the film, Lincoln delivers a conflation of famous words from the Gettysburg Address and Second Inaugural Address at Ford's Theatre on April 14, 1865 - just moments before being assassinated... these things were chosen by the director and felt out of place. This is a movie for people who want to see the old master's work - not his best one, but still with his signature.
An episodic, classroom-style retelling of the life of the most famous U.S. president. D.W.Griffith, an unabashed southern sympathizer, lends his sweeping style to a large task: how to fit the ups and downs of the Civil War, no less, into a little less than two hours, and the result is stilted, static filmmaking, with actors standing in different rooms and reacting to news of the war. Huston does his best but is defeated by Griffith's heavy hand.
Kevin M. Williams
Super Reviewer
½
This early sound film from D.W. Griffith is almost episodic in its telling of the life of our 16th president. The editing gives the film no flow, but rather the scenes -- all cut down to the barest of information -- seem to each stand alone, as if the film was just a collection of film clips. There are some well-done miniature sets, and Walter Huston makes a good Honest Abe, but it's clear that Griffith's best work was behind him.
Abraham Lincoln Quotes
There are no approved quotes yet for this movie.