Lola
(1981)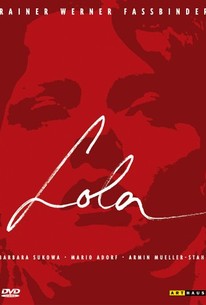 Movie Info
A homage to Von Sternberg's 'The Blue Angel,' Fassbinder's film follows a stuffy municipal building commissioner who loses his heart to Lola, a sluttish entertainer.
Audience Reviews for Lola
The last film of Fassbinder's BRD Trilogy is this sharp social satire that proves to be hilarious from start to finish, a quirky melodrama of garish visuals and glossy colors with Barbara Sukowa displaying a delicious comic timing in a story that can be surprisingly touching.
Carlos Magalhães
Super Reviewer
I really didn't know what to expect from this, but I ended up really liking it. Having very little knowledge of post-war German social life, a lot of the plot was a little harder to pick up on, but the characters required no prerequisites. Barbara Sukowa's performance is truly great, her intensity was really something else. I was a fan of the odd transitions and crazy coloring every time Armin Mueller-Stahl was getting mad. I can't say that it's a movie i'll watch over and over, but it's extremely well made and unique.
Conner Rainwater
Super Reviewer
I'm a bit of a beginner when it comes to Fassbinder, but "Lola" strengthened my suspicion that he's not destined to be a favorite of mine. There's a lurid, degenerate quality to this tale which just dragged me down, and not in a good way. I much prefer "The Blue Angel" over this modern revision and, for that matter, I also prefer Jacques Demy's 1961 film titled "Lola." The lighting of "Lola" is stylized to incredible extremes -- the film is like a bowl of Easter jelly beans, as dim rooms glow with garish pinks, greens, purples and blues. This eventually becomes tiring. The defocused dissolves used as scene transitions also seem rather tacky. The acting is excellent, however, and the story's portrait of corrupt bureaucracy still has resonance. And on two trivial notes, I greatly enjoyed the minor character of the simpering secretary (I wish we had seen more of her), and it was quite endearing to see the lead actor play some decent violin!
Eric Broome
Super Reviewer
Lola Quotes
There are no approved quotes yet for this movie.