The Accused
(1988)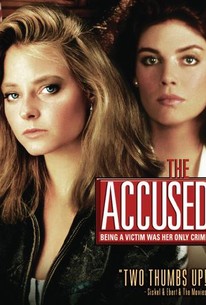 Movie Info
Simultaneously gut-wrenching and provocative, The Accused follows the struggle of a young woman to find justice after she is publicly gang-raped in a local tavern. While it seems a straightforward enough case, there are some complicating issues involving the character and intent of the victim herself and also the culpability amongst those who witnessed the crime and did nothing to stop it. Sarah Tobias (Jodie Foster in a mesmerizing Oscar-winning turn) is a hard-living sexy little fireball who loves to party with her friends. The night of the rape, she had a fight with her boy friend and so goes to the bar to blow off a little steam. In the dark back room where the pool tables sit and pinball machines flash dimly against the walls, Sarah begins casually flirting, dancing around, drinking a bit and the next thing she knows she is tossed upon a pinball machine being brutally ravaged with guys lined up to have their way with her while other patrons stand around cheering. Badly beaten and traumatized, she ends up in the DA's office facing attorney Kathryn Murphy (Kelly McGillis) who listens and takes the case. But as Murphy learns more about Sarah, she becomes less pleased, for Sarah has a long, checkered past of drugs, booze and casual acquaintances that the defense can easily use to destroy her character. Rather than risk that, Murphy goes for a plea bargain that grants the guilty light sentences and frees them from having to admit that they committed rape. Sarah goes ballistic when she hears about the trial and harshly derides Murphy. The lawyer seems unsympathetic at first, but then she sees first hand the devastation the rape has wrought upon Sarah's life and decides to defy her bosses and continue fighting for justice using an entirely new tack. This time, instead of going after the rapists, she is going after the "passive" onlookers who may or may not have encouraged the crime. The Accused is loosely based upon the true story of a much-publicized 1983 case from New Bedford, Massachusetts.
Critic Reviews for The Accused
Audience Reviews for The Accused
Jodie Foster delivers the goods and how (a shotgun in your face, think young Brando's Kowalski) as a white trash waitress who is cruelly victimized and so must fight for her human dignity. Released in 1988 this one is beginning to show it's age but Foster's performance keeps everything else glued together.
Kevin M. Williams
Super Reviewer
Jodie Foster & Kelly McGillis' empowering performances shed light on a dark and difficult story. The Accused is gut-wrenching and somewhat unbearable to view that it leaves its audience speechless, emotional and cautious of this heinous action/situation that still occurs to this day. 4/5
Eugene Bernabe
Super Reviewer
It's an important film with an important message. In terms of quality, better courtroom dramas have been made, but the film succeeds due to the performances, the power of the story, and the grace in which it is presented.
Matthew Samuel Mirliani
Super Reviewer