The Breaking Point
(1950)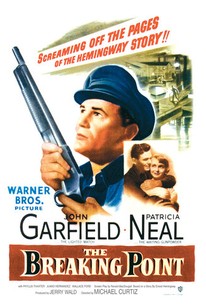 The Breaking Point Photos
Movie Info
In this taut adaptation of Hemingway's To Have and Have Not a financially struggling charter-boat captain finds himself in deep and turbulent water when he is forced to get involved with smugglers after a dishonest millionaire cheats him out of pay during a fishing excursion to Mexico; the louse also leaves his seductive girl friend, a hooker, stranded on the boat. The desperate captain agrees to illegally smuggle Chinese refugees into the US, but during the voyage, he is again double-crossed and must force his hapless passengers to jump ship when the Coast Guard suddenly appears. They take his boat away from him. Deeply depressed, he has sex with the abandoned woman and then goes home. Meanwhile, the crooked lawyer who talked him into smuggling the refugees, gets the captain's boat back and then blackmails him into taking a gang of crooks to Catalina Island. During the 26-mile voyage things come to a head when one of the crooks kills the skipper's first mate. Suddenly the captain snaps and he finally gets his revenge.
Critic Reviews for The Breaking Point
Audience Reviews for The Breaking Point
½
Superior performances in this rough well made film. In his second to last film, a much truer version of Hemingway's To Have and Have Not than the Bogie/Bacall film, Garfield is nothing short of brilliant making his early death and the loss of his talent all the clearer. Patricia Neal has one of her best if not the best role of her early Hollywood career and she's great as the been around wise girl who has a yen for Garfield. She and Phyllis Thaxter, also very fine, provide an interesting contrast as women who are miles apart but also similar in many ways. The fact that the two actresses share a resemblance helps make the point even clearer. Worth seeking out.
The Breaking Point Quotes
There are no approved quotes yet for this movie.