The Prowler (Cost of Living )
(1951)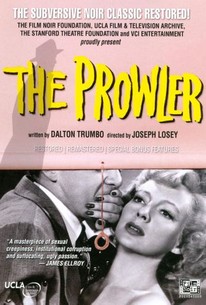 The Prowler (Cost of Living ) Photos
Movie Info
Webb Garwood (Van Heflin) is a cynical policeman who believes that success comes from lucky breaks. Responding to a prowler complaint at the home of Susan Gilvray (Evelyn Keyes), he is immediately attracted to her and her wealth. He returns to "check up" on Susan, and they begin an affair, conducted while listening to her husband John (Sherry Hall)'s all-night radio program. Feeling guilty, Susan ends the relationship, but Garwood remains obsessed. He pretends to be a prowler on the Gilvray property so he can respond to another police call. Drawing William outside, he shoots him and makes it appear accidental. When Garwood manipulates Susan's confusion about the shooting, she buys his story, and the lovers marry. However, upon discovering that Susan is pregnant "too soon," they flee to give birth in secret, but eventually Susan learns the devastating truth.
Critic Reviews for The Prowler (Cost of Living )
Audience Reviews for The Prowler (Cost of Living )
½
a crazy film with van heflin in the lead, playing a creepy power abusing cop who takes advantage of a lonely married woman. he's great here and it seems a shame he was usually relegated to second banana roles. the film was made very cheaply and it's paranoid atmosphere is highly effective, ending with a big meltdown in the nevada desert
Stella Dallas
Super Reviewer
½
This is why Losey is one of my favorite directors.
Stefanie C
Super Reviewer
Good Noir about a cop abusing his power to get what he wants. Good story and probably one of the first to deal with the "Unlawful Entry" plot that we have seen annually for the last 20 years. The story is at a good pace and very believable. It has a modern view on basketball, unhappiness with your career, and pre-marital sex. Van Heflin is great and his character is very realistic, he is bad, but not cartoonish. He does everything for love, he just approaches it all wrong. The very end is a little melodramatic, but overall a solid film. Not great, but worth a watch if you can find it.
cody franklin
Super Reviewer
The Prowler (Cost of Living ) Quotes
There are no approved quotes yet for this movie.