Smart Money
(1931)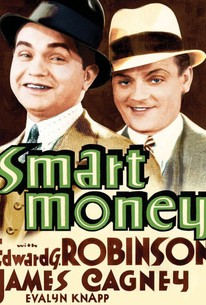 AUDIENCE SCORE
Critic Consensus: No consensus yet.
Movie Info
Edward G. Robinson and James Cagney were teamed for the only time in their careers in Smart Money. Robinson has the larger part as a small-town barber who fancies himself a big-time gambler. He travels to the Big City in the company of his younger brother Cagney, who wants to make sure that Robinson isn't fleeced by the high-rollers. Unfortunately Robinson has a weakness for beautiful blondes, most of whom take him for all his money or betray him in some other manner. The cops aren't keen on Robinson's gambling activities, but they can pin nothing on him until he accidentally kills Cagney in a fight. The incident results in a jail term for manslaughter, and a more sober-sided outlook on life for the formerly flamboyant Robinson. Watch closely in the first reel of Smart Money for an unbilled appearance by Boris Karloff as a dope pusher.
Critic Reviews for Smart Money
Audience Reviews for Smart Money
Edward G. Robinson seems to be playing the sucker male roles lately..."Smart Money" isn't really anything original but about a guy Nick "The Barber" Veniz (Robinson) who seems to have a weakness for gorgeous women and literally acts like a white knight to them. "The Barber" hnags out with his loyal brother named Jack played by James Cagney (in one of lesser good guy roles) who doesn't want to see his brother seen as a wuss. They're both into heavy gambling and run a so called barbershop and still remain humble loyal guys. The good life all catches up for The Barber where he will have to admit to his sins. "Smart Money" is a good film but it's themes is pretty much what audiences have seen before.
This movie is pretty slow for most of it, especially because of all the card playing and gambling scenes, but it gets more exciting towards the ending. It was cool to finally see Robinson and Cagney together in a movie, although I was confused as to weather they were supposed to be brothers or just best friends or what. Overall, an okay movie.
Smart Money is a pretty fun pseudo-gangster movie about a barber/professional gambler who makes it to the big time. Edward G. Robinson is his usual great self but its the dynamic between him and James Cagney as his right hand man that makes Smart Money. That and some elements of this movie really reminded me of the remake of Ocean's Eleven. No new ground is broken with this movie but its got a few entertaining parts (particularly Cagney's pantomime about a woman waiting to see Robinson) but the way the story completely shifted gears in the last 10 minutes really bugged me. Overall, a good fun quick watch.
Michael Gildea
Super Reviewer
Smart Money Quotes
There are no approved quotes yet for this movie.