Taxi!
(1932)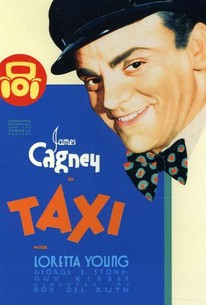 AUDIENCE SCORE
Critic Consensus: No consensus yet.
Movie Info
A tough, independent New York cabbie (James Cagney) stands up to a powerful taxi trust that is trying to monopolize the city. To help with his struggle the taxi driver rallies fellow independent drivers, but this leads to an unstoppable spiral of increasing violence that forces the culminates in a battle of wits. This is the first film in which Cagney displayed his considerable talents as a dancer. Another dancer George Raft was brought in by Cagney to perform during a dance contest segment.
Audience Reviews for Taxi!
Made just one year after 'The Public Enemy', James Cagney had truly made it in Hollywood when this film was made, and here he's engaging as always. However, while it's wonderful to see him dance a couple times (and to see George Raft dance as well), it's less than wonderful to see his character's pugnaciousness extending to threatening to hit his girlfriend (Loretta Young) several times. If you're sensitive to that, you may want to skip this one. Even at age 19, Young was practically an industry veteran given her filmography, and she turns in a good performance, both standing up to Cagney (at least to some extent) and falling for him. She also confessed to falling for him in real life, and maybe some of that chemistry shows. It's a tight script and story-telling from director Roy Del Ruth, but it is a little silly how much Young's character helps Cagney's enemy (David Landau). I loved the stock city shots in New York that are used in transitions, and the film zips along in its 69 minutes. The scene in the nightclub, with music by the Cotton Club Orchestra and some sexy dancing, is also a nice little bit of pre-code fun, as is Young briefly in her lingerie in a typical pre-code dressing scene. The main reason to watch the film, though, is to see Cagney's range. He's playful, romantic, speaks Yiddish, dances, and of course gets tough, busting off lines like "Come out and take it, you dirty yellow-bellied rat, or I'll give it to you through the door!" Despite its flaws, it's entertaining, and worth seeing.
Antonius Block
Super Reviewer
Taxi! Quotes
There are no approved quotes yet for this movie.