The Unknown
(1927)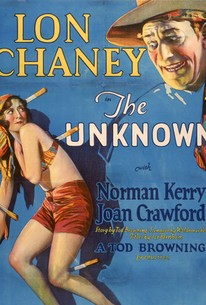 Movie Info
Another typically morbid Chaney film has him working as a circus freak and trying to win the heart of his assistant. Alas, she does not want him so he must kill the object of her intentions.
Critic Reviews for The Unknown
Audience Reviews for The Unknown
½
While very short at just 50 minutes, this film packs an emotional punch and is macabre in a way that is unique to the genre of horror movies. I won't spoil the big moments, but the tone is set from the beginning as we find ourselves at the circus performance with an armless man (Lon Chaney) hurling knives and firing a rifle at his partner (a young Joan Crawford). As we later see Chaney (and a real-life armless double) manipulate objects and do things like smoke with this feet, we're reminded of the film director Tod Browning would make five years later, 'Freaks'. Chaney's performance throughout the film is brilliant, and he dramatically captures angst, jealousy, and pain. John George turns in a strong performance as the little person in the circus who is Chaney's friend, and the two of them create a striking pair. While the overall tone of the movie is deliciously creepy, the romance Joan Crawford warms up to with a circus strong-man (Norman Kerry) is sweet, and Browning uses a piece of gauze over the camera lens to create an idyllic, dreamy feel to some of their scenes. The uncredited score that was used on the TCM showing was also fantastic. Great film, especially for 1927.
Antonius Block
Super Reviewer
½
A brilliant love story, I loved it, I just wish it were a bit longer, but other than that, it's perfect. It's a love story about obsession, lies, and murder. And the climactic scene towards the end was riveting. And Lon Cheney is fantastic as a 'one armed' man. I highly recommend this movie.
wow. tod browning was one twisted fuck. this is like a precursor to freaks, with joan crawford when she was still cute and a standout performance by lon chaney. one of the stranger films you'll ever see
Stella Dallas
Super Reviewer
The Unknown Quotes
There are no approved quotes yet for this movie.