Goin' Down the Road
(1970)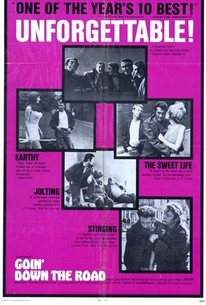 AUDIENCE SCORE
Critic Consensus: No consensus yet.
Movie Info
The two road-goer-downers in this film are Nova Scotia buddies Doug McGrath and Paul Bradley. Seeking a better life in Toronto, the boys land dead-end jobs at a soft-drink factory. They lose their jobs when one of them gets a girl pregnant. Despite the fact that the pair can't live with each other, it is equally obvious that they can't live without each other, and the film ends with the twosome heading down yet another road hoping to find happiness. Filmed on a reported budget of $75,000, the Award-winning Goin' Down the Road typifies the independent, improvisational spirit one so often found in Canadian films of the 1970s.
Critic Reviews for Goin' Down the Road
Audience Reviews for Goin' Down the Road
½
Made me think of the last line in a song by the Hold Steady: "In the end, only the girl knows the whole truth / In the end, I bet no one learns a lesson." Commonly thought of as the movie that put Canadian film on the map, this is a low-budget, documentary-like story about two working class friends who leave their Nova Scotia home behind and set off for Toronto. Uneducated and basically unemployable, the lads work at a bottling plant, meet women, drink too much, lose their jobs, go bust and then take one drastic action to try to make things good again... misguided, drastic action... With a budget, this film could have been a legend. As it is, it's an important signpost, but it's not a masterpiece or anything. It's most valuable for being part of that lyrico-gritty realist movement in the 70s (think Scorsese, later), as a film unafraid to tell it like it was. Neo-realism, as with all trends when they get to Canada, a good 30 years later. Notable, believable and depressing - a good movie, in all, with some good early Bruce Cockburn songs, and one that Bruce McDonald must have loved. And no: not all Canadians are named Bruce. I promise.
Daniel Perry
Super Reviewer
Aw man, is this what the world thinks of when they think of Canadian cinema? The only thing more despressing than that thought is this movie itself. This movie is about two obnoxious losers who set themselves up for disappointment and failure, screw things up then go back home with nothing to show for thier hardships. It's very seldom interesting and lack any levity whatsoever that would have made this heavy-as-lead movie a little more buoyant. For a film voted one of Canada's greatest of all time, I really expected something special. This would not have been it.
Emily Armstrong
Super Reviewer
Goin' Down the Road Quotes
There are no approved quotes yet for this movie.