Criminal
(2004)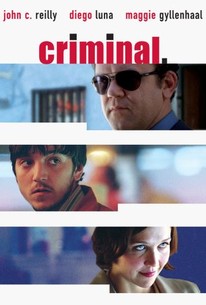 Movie Info
A contemporary caper story centering upon an extremely odd couple: a young Latino man who will do anything for his family and a thirty-something scheming white guy who will do anything to his family. One wants to save his father. The other wants to get rich, in any way possible. So when they come across one of the most valuable pieces of currency in U.S. history, they're suddenly stuck together, and that's just--criminal. All they have to do is sell it, which is where the real problems begin. The only way out is family but the one person who can help them, hates them: the schemer's sister.
Critic Reviews for Criminal
Audience Reviews for Criminal
½
I really, really, really think that EVERYONE should see this film. It was one of the most entertaining films I've watched all year. In a world where only morbid/ depressing movies are considered excellent and plot less, big-budget films rule the box-office it is nice to see a smaller budget film that has fun with itself. The cast in this film is superb. Diego Luna especially gives a great performance. He is endearing, lovable, enthusiastic, and intelligent in his portrayal of "Brian." It was nice to see him in this context and I personally believe that he thrived in the part. He is an excellent actor and i have to admit that I am now a fan.I almost always guess the "surprise" ending in movies that claim to have one, but this film still has me wondering how i didn't get it. Do yourself a favor and see this movie!!!!!!!!!! I don't want to tell you the plot because I don't trust myself not to give anything away. If you enjoy caper/mystery/ entertaining movies go see this one. 3/1/2 Stars 3=21=13
Bruce Bruce
Super Reviewer
½
Decent film about two con men, but you kind of figure there is going to be double crossing and it's not very shocking when it happens. I think with this type of movie it's kind of, seen one, seen them all, but as they are not really a favourite genre of mine anyhow, I would say this was a good one as I did enjoy it and didn't get overly bored watching it. Cast are all good.
Nicki Marie
Super Reviewer
A fun movie that had a lot of great twists and great acting. While I really hated the cinematography and general direction, it was just too well written and energetic to not like. John C. Reilly was flawless, he continues to amaze me time and time again. He is one of the most gifted and versatile actors working in Hollywood. I'd say it's a definite must for any fans of hustler films.
Conner Rainwater
Super Reviewer
Criminal Quotes
| | |
| --- | --- |
| Richard Gaddis: | "You have one thing money and practice can't buy. You look like a nice guy." |
| Richard Gaddis: | You have one thing money and practice can't buy. You look like a nice guy. |