Twin Sisters
(2005)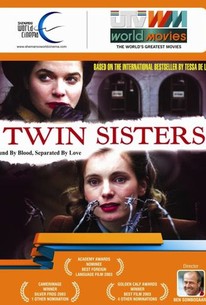 Movie Info
Dutch family-oriented filmmaker Ben Sombogaart directs De Tweeling (Twin Sisters), based on the best-selling novel by Tessa de Loo. Using black-and-white and color film stocks to establish the interwoven time periods, the story concerns twin sisters who grow up during WWII. In 1926, orphans Lotte and Anna are separated and forbidden to contact each other. Lotte is taken in by a wealthy Dutch couple to recover from tuberculosis and Anna is sent to work on a farm in Germany under the aegis of her uncle. Each woman becomes romantically involved with a different suitor; when the war breaks out, both sisters lose their men. The socioeconomic differences between their experiences drive them to opposite sides of the battlefront once war breaks out. Years later, they reencounter each other again and face the difficult prospect of a long-delayed reconciliation.
Critic Reviews for Twin Sisters
Audience Reviews for Twin Sisters
½
In 1928, twin sisters Lotte(Julia Koopmans) and Anna(Sina Richardt) are orphaned and split up. Lotte, suffering from consumption, is sent to wealthy relatives in Holland to recover while Anna gets to stay and shovel cow manure. Even after Lotte gets better, no attempt is made to reunite the twins. By 1936, Anna(Nadja Uhl) and Lotte(Thekla Reuten) are old enough to start taking an interest in boys. Lotte is rather fond of David(Jeroen Spitzenberger) while Anna takes a liking to Bernd(Markus Von Lingen), a young Nazi, which so angers her uncle Heinrich(Ingo Naujoks) that he beats her severely enough for the pastor(Germain Wagner) to finally intercede on her behalf. While taking place on familiar ground, "Twin Sisters" adds a new spin with its Dickensian tale that seeks to explore identity when it is at its most important.(I was a little confused at first because Dutch and German sound similar to my untrained ears which might have been the point.) Through ignorance, Anna pays lip service to the Nazi party line but essentially remains a kind person. Along these same lines, the movie validates Bill Hicks when he pointed out how patriotism is linked to no more than where we are born. So while our fates may come down to a matter of timing, looking back on events may cause us to see a pattern that was never there in the first place.
Tear jerker all the way through. Vivid images, superb acting, beautiful heart wrenching story. Based on a famous Dutch novel, this filmed version was one of the five "Best Foreign Film" nominees for 2004's Academy Award. The two actresses who portray the twin sisters from late teens to early middle age are quite good, and the sets, costumes and WWII sensibility are wonderful. Good movie!
Cynthia S.
Super Reviewer
Based on the Dutch bestseller novel written by Tessa de Loo, the Oscar nominated "De Tweeling" is a magnificent movie. The dramatic story of these twin sisters, forced to a separation in their childhood, and following parallel lives due to WW2, is very sad, but never boring. I felt very sorry for the suffered character of Anna, and in the end I was sad with this touching and sensitive movie. Ben Sombogaard did a great job in shooting this movie of a popular Dutch book. The confusions and drama between the two sisters are the most important storyline. The war is only background.The performance of the unknown cast is amazing and this movie is a must-see. My vote is 5 stars.
Daisy Maduro
Super Reviewer
Twin Sisters Quotes
There are no approved quotes yet for this movie.