Man Hunt
(1941)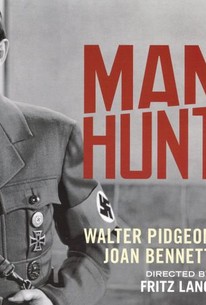 Movie Info
A hunter finds himself in a world of danger when he decides to stalk Adolf Hitler in this taut WWII thriller. Capt. Thorndike (Walter Pidgeon) is an expert big-game hunter from England. While hunting in Bavaria, he happens upon Hitler's Berchtesgaden estate and spots the Fuhrer; he has his rifle in tow, and he toys with the idea of firing at the dictator, even raising the unloaded weapon, putting Hitler in the crosshairs, and pulling the trigger to make the gun click. Unfortunately, this draws the attention of Maj. Quive-Smith (George Sanders), a Gestapo leader assigned to guard the Führer, who promptly apprehends Thorndike, drags him off and attempts to force him to sign a confession. When he refuses, he's brutally beaten and dumped into a hole in the woods, and must climb out and make his way to safety, by hiding as a stowaway on a Danish steamer. The poor fellow then runs afoul of the menacing Mr. Jones (John Carradine), who steals his passport and identity. By the time Thorndike returns to London, the hunter has become the hunted, with Gestapo agents combing the streets looking for the would-be assassin. Man Hunt was directed by Fritz Lang, the great German director who fled to Paris in 1933 rather than accept a commission from Joseph Goebbels to make Nazi propaganda films. He came to America the following year.
Critic Reviews for Man Hunt
Audience Reviews for Man Hunt
Captain Alan Thorndike: I present you with this dangerous weapon, madmoiselle, with my undying gratitude and admiration. May you never lodge it in the wrong heart. Man Hunt is a very interesting movie from Fritz Lang. It has a little bit of everything and it's really well directed, which shouldn't be a shock coming from Lang. At once, it's fun and light and there's jokes and then all of a sudden tones will shift and the film changes to something more serious. This wouldn't work with a lot of other films, but it does here. Capt. Thorndike is hunting in Germany. We see him come to a ledge and put Hitler in his sights. He pulls the trigger, but there isn't a bullet in it, which he knows. As he begins to get up to leave, he changes his mind and puts a bullet in the gun and re aims at Hitler. A Nazi guard spots him and takes him into custody. He ends up getting away, and soon the hunter becomes the hunted when Maj. Quive-Smith of the German Gestapo won't rest until Thorndike has signed a paper confessing to trying to assassinate Hitler under the command of the British military. I really loved Man Hunt. There were two good performances from Walter Pidgeon and George Sanders, and although I didn't care for Joan Bennett; she didn't ruin the movie though. In the end, this was one hell of a fun and suspenseful ride from one of the masters, Fritz Lang.
Melvin White
Super Reviewer
½
Compact well directed drama of the dawning realization of the Nazi threat in Europe. A noir before that was a popular genre. Pidgeon handles his role well, moving from the lighter tone at the start of the film to the serious one later on. Joan Bennett is a breezy delight as a practitioner of the world's oldest profession. She did some of her best work in Lang films, he was a tough director but she was herself a straight shooter who had no problem giving as good as she got enabling them to work well together through four films.
½
Man Hunt is an earlier American Fritz Lang film that I'm also guessing is one of his most personal. Walter Pidgeon plays a famous British big game hunter who could have easily taken out Hitler. He's captured and his escape escalates, leaving the possibility of international ramifications almost imminent. Walter Pidgeon plays the man on the run and George Sanders is his adversary. Both are great here as is a baby Roddy McDowell. Joan Bennett's definitely easy on the eyes but her cockney accent made me want to forcibly remove my eardrums from my goddamned head, almost driving me as nuts as the dynamic between Pidgeon and Bennett. It's Joan Bennett! You ask if you can drink her bath water, you don't talk to her like she's your sister's kid! What the hell's wrong with you!?!? Lang's direction is often eerie and noirish and was a nice precursor to the other films he'd make with Bennett, Scarlett Street and Woman in the Window.
Michael Gildea
Super Reviewer
Man Hunt Quotes
There are no approved quotes yet for this movie.