Dead End
(2003)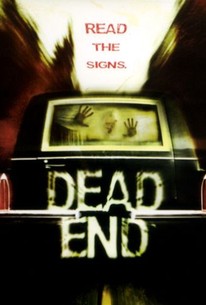 Movie Info
A family making their annual Christmas pilgrimage to Grandmother's house finds their journey taking an ominous turn when they attempt to take an unfamiliar shortcut in this low-key chiller from first-time director Jean-Baptiste Andrea. For 20 years, Frank Harrington (Ray Wise) has driven the same, mind-numbingly familiar route to the annual holiday gathering, but the discovery of an unfamiliar shortcut simply proves too enticing for the loving but strained father to resist. As the road grows increasingly dark, the eerie sight of a young woman carrying a small infant sets into motion a horrific series of roadside deaths that finds the family's numbers quickly dwindling. Though there are no other travelers on the long and dark stretch of road, the appearance of a menacing black hearse seems somehow connected to the spectral woman and her child. Could it be that a vengeful entity was the previous victim of a roadside accident, returning to torment any trespasser who happens to wander down her silent stretch of road, or could the answer to the horrific mystery lie deep within the conscience of one of the few remaining family-members?
Critic Reviews for Dead End
Audience Reviews for Dead End
The characters can be quite unpleasant but the actors make everything really fun to watch, as the movie flirts with absurdity to the point of hilarious (especially when family secrets come up in the most bizarre situations) and offers us enough tension to compensate for its silliness.
Carlos Magalhães
Super Reviewer
Frank: Every time we've stopped, someone's gotten killed. We have to keep driving. "Read the signs." Dead End really isn't the terrible horror film I expected. It actually has a few well done scenes and some genuinely good ideas. So I'll admit that it isn't completely worthless. With that said, I still didn't like it. It's a really short, but somehow drawn out film. It seems like it would have played it better as a 30 minute short, but for an hour and twenty minutes, there really isn't too much there. The "Lady in White" character is terribly used when she should have been the scariest part of the film. So when what should have been the scariest part of the film isn't, that generally means it isn't going to be all that scary... and it isn't. I will say that I liked the whole usage of the car. It was a solid element in a movie that really didn't have that much. It's definitely what I will remember about the movie in the future. Other than that, it was all largely forgettable. The acting was suspect at best, and often times just annoying. The scares were... well there weren't any.  As it is though, you could do a lot worse. This is another of those backwoods road movies. The characters are lost and for the most part really stupid with their actions. Oh, but wait for the twist which will explain everything. Another really poorly done part of the film in my opinion. It's an average entry into the backwoods genre, which means it's a below average movie. As a horror buff, I'll give just about anything a shot, so if you're like me, it isn't a total waste of time. Everyone else... skip it.
Melvin White
Super Reviewer
½
Ray Wise = "I'm in!" This is another one that felt like a made for TV film, some good suspense but could have benefited from more scares and on screen kills. Though as a Lynch fan I couldn't help but chuckle when "Frank's" (Ray Wise) son finds a cellphone with an ear attached and hearing "Frank" calling into the night for "Laura!!!" (his wife this time around) brought back some great memories as well. Not horrible...a little campy a few scares a teeny bit of blood, but nothing real schocking.
Dead End Quotes
| | |
| --- | --- |
| Laura: | Look, I made a drawing of Brad. This was his leg that was hanging out. |
| | |
| --- | --- |
| Frank: | "I know this is the season of giving, but I just don't give a fuck!" |
| Frank: | I know this is the season of giving, but I just don't give a fuck! |
| | |
| --- | --- |
| Frank: | Maybe the North Star doesn't indicate north. Maybe the map maker was drunk. Maybe the moon's made out of cheese. Who knows? Everything is so fucked up on this goddamn road! |
| Frank: | Maybe the North Star doesn't indicate north. Maybe the map maker was drunk. Maybe the moon's made out of cheese. Who knows? Everything is so fucked up on this goddamn road! |
| | |
| --- | --- |
| Frank: | Richard, drag his body off to the side of the road. |
| Richard: | Jesus, what do I look like? Your fu*king janitor? |