Going the Distance
(2004)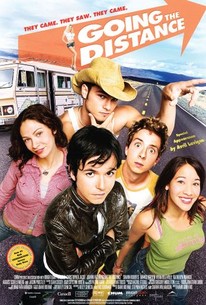 Going the Distance Photos
Movie Info
Delightfully raunchy wit drives this teen comedy, which has the same spirit as the "American Pie" movies. Fresh from high school, Nick (Christopher Jacot) and two pals take a rollicking road trip to Toronto so that he can find and marry his girlfriend, who is being wooed by a sleazy music producer. Jason Priestley and rocker Avril Lavigne have cameos. Shawn Roberts.
Critic Reviews for Going the Distance
Audience Reviews for Going the Distance
Call it an inflated grade, but I really liked this. It's basically a Canadian version of Road Trip, but it stands on its own, and is not a total ripoff. There's some hysterical moments here, and its a good way to pass roughly 90 minutes of time- especially if booze and smokes are involved.
Chris Weber
Super Reviewer
Sex, sex, sex, sex and ummm wait, lemme think.. more SEX! I mean this is basically a PG porn movie. There's nothing substantial in this and i felt like i was wasting my precious time when instead i could be picking up a book and getting intellectual - not watch this movie and have my brain turn into jelly. Watch if you enjoy the 2 N'S: nudity and nothingness. Otherwise stay away. I'm sorry if i sounded harsh. Please excuse my distaste for this repugnant movie, if you can call it that.
Another version of 'Road Trip', but more entertaining
Sanjaya 丘耀文
Super Reviewer
Going the Distance Quotes
There are no approved quotes yet for this movie.