Ultraviolet
(2006)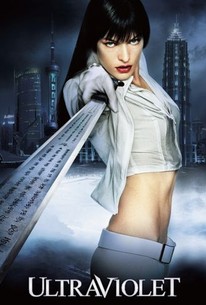 Movie Info
In the late 21st a disease called Hemophagia has genetically modified nearly an entire race of people, leaving them with such enhanced speed, intelligence, and strength that they resemble vampires in nearly every way. Fear begins to breed within the power elite as the disease continues to spread and those infected prove to be truly superhuman, and now, a civil war is brewing between uninfected humans and those altered by Hemophagia. Caught dead in the center of it is an infected woman called Violet (Milla Jovovich), who is bent on vengeance and has little left to lose. Provoked beyond reason by powers that will not rest until she and her people are dead, she will become everything her persecutors feared her to be.
Critic Reviews for Ultraviolet
Audience Reviews for Ultraviolet
½
Whatever this was supposed to be, or what it might've been in it's original form, I don't know yah, but what's up on the screen finally is no less than a blatant style steal from The Matrix, and its that without any of the supporting scripting fills to prop it up or fill it out. I'm a fan of Milla J. but this was a chore to endure.
Kevin M. Williams
Super Reviewer
I don't know...I kind of liked it. It's a litte different and a bit wierd. But it feels like a mix of Resident Evil, Blade and Sin City. And those are all good movies. I'm not gonna try to convince someone that it's good. Cause I know that I'm wrong. I read that a lot of other reviews calls it hard to understand...And sure...It's a little (a lot) random. But I think everything is explained pretty well in the begining. I also thought the final scene with the burning swords was pretty cool. I understand that it's easy to hate this movie...but I didn't think it was that bad. A little disapointed though that she didn't say "Watch me" again at the end....she was building up for it.
Martin Sahlin
Super Reviewer
½
First, they made her a weapon. That was their second deadliest mistake. Now, they've made her a target... The story of this movie is decently good, fighting scenes were okay and some effects were cool too, said that it's all down hill from there, the scenery looks really fake and the acting was abysmal. This is all the director's fault to me. It had some potential, the action sequences look a little mundane as we have seen it all before but they are quick and effective. The story is quirky enough to be interesting and some of the backdrops look good. Director use 30 million to budget this film, are you serious? The problem is, Ultraviolet neither makes sense nor holds together as a film. Huge chunks of action and story seem to have been lost on the cutting room floor. The film is left overloaded with the expensive bits that had already been paid for. Lots of sweeping city-scapes and shots of Milla walking down corridors don't make a film.Watch this film if your a Milla Jovovich, everyone else your just wasting your time. In the mid-21st century, the Hemaglophagic virus (HGV), an obscure virus from Eastern Europe which was being used to breed stronger and faster soldiers, escaped the laboratory. Once infected, people have a lifespan of about 12 years, but first they are reduced to "hemophages" (aka "vampires"). They take on many characteristics including extended eyeteeth, regeneration, accelerated reflexes and increased strength. One of the victims is Violet Song jat Shariff [Milla Jovovich]. Because she was infected while pregnant, Violet was secured to a holding camp to be studied. Most of the other hemophages have been wiped out, thanks to the actions of Vice cardinal Ferdinand Daxus [Nick Chinlund], who is determined to wipe out every last hemophage. But the hemophages aren't going to be led like sheep to their slaughter. Hemophages have united, and their resistance and terrorist attacks have become known as "the Blood War." It is 12 years later. The scientists terminated Violet's pregnancy, and she has managed to escape the camp and join the Hemophage Underground. After infiltrating the Archministry by posing as courier XPD154, Violet finds herself in possession of a case that contains the ultimate weapon against Hemophages, one that will wipe out the entire hemophagic population. When ordered by her Hemophagic superior, Nerva [Sebastien Andrieu], to destroy the case without opening it, which will set off a bomb that will destroy everything a block around, Violet refuses to comply and opens the case to discover it contains a child. It is both a weapon and a child, she is told. The child contains antigens that will wipe out all existing Hemophages. What is Violet to do...destroy the weapon or protect the child? The child is a ten-year human named Six [Cameron Bright], because he is a clone of eight. He has been raised all his life in a laboratory and knows very little about life outside. Violet takes Six to be examined by her Hemophagic friend Garth [William Fichtner], who learns that Six has only eight hours to live and that he is outfitted with a tracking device, so Violet must keep moving lest Daxus catches up with her. Unfortunately, Nerva has made a deal with Daxus and learned that Six doesn't contain an antigen against Hemophagia but against the entire human race, so Nerva seizes Six with the idea of using him against the humans. Violet sets Six free again. In the time they have left before Six dies, Violet takes him to the park. When the time comes, Violet is at his side, but Daxus and his henchmen show up to claim the body and kill Violet. Fortunately for Violet, Garth manages to retrieve her body before Daxus's incendiary team can destroy it. After several hours of surgery, Garth is able to bring Violet back to life. Violet goes into a deep depression but recovers when she senses that Six is not dead and that he needs her help to get away from Daxus. Violet storms the Archministry just as Daxus is about to saw into Six's brain. Violet single-handedly wipes out everyone in the Archministry except for Daxus. As they face each other, Daxus tells Violet the truth about himself...he is actually a Hemophage, too. Violet defeats him with a flame pistol and her sword. Epilogue: Violet carries Six to the roof and reawakens him. Six is surprised to still be alive; a flashback reveals one of Violet's tears at the park infected him and he is now a hemophage. He tells Violet that there is a cure for Hemophagia.
Ultraviolet Quotes
| | |
| --- | --- |
| Daxus: | Do you know who I am? |
| Ultraviolet: | How could I not? Tyrant. Egomaniac. Narcissist. That about sums it up, doesn't it? |
| Daxus: | Yes it may be true. I may have... quirks. |
| Daxus: | Yes it may be true. I may have quirks. |
| | |
| --- | --- |
| Garth: | Why won't you ever let anyone inside? |
| Ultraviolet: | Because these moments, as beautiful as they are, are evil when they're gone. |