Arthur and the Invisibles (Arthur and the Minimoys)
(2007)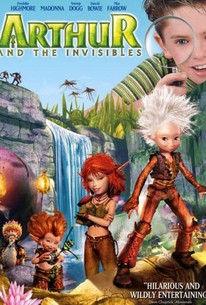 Arthur and the Invisibles (Arthur and the Minimoys) Photos
Movie Info
On the heels of his first foray into romantic comedy, versatile French filmmaker Luc Besson breaks new ground yet again with this computer-animated, family-friendly adaptation of his own children's book Arthur and the Minimoys. Arthur is a wide-eyed ten-year-old whose vivid imagination is fueled by the colorful bedtime stories his grandmother reads to him each night. His dreams are filled with images of African tribes and the remarkable inventions detailed in the enigmatic book that his grandfather left behind after mysteriously disappearing four years ago. Arthur and his family are in danger of losing their home to an unscrupulous real-estate developer, but if there is any truth to the tales of a treasure hidden deep beneath their garden and the tiny, fairy-like creatures that his grandmother so frequently sketches, there may still be hope of saving their home before it's too late. Now, with nothing to guide him but the clues left behind by his grandfather, Arthur will set out to find the mythical world of Seven Kingdoms, where the Minimoys are said to dwell, and ensure that his troubled family always has a place to call home. An imaginative children's fantasy in the vein of J.M. Barrie's Peter Pan, Arthur and the Invisibles features the voices of David Bowie, Snoop Dogg, Madonna, Mia Farrow, and Freddie Highmore. ~ Jason Buchanan, Rovi
News & Interviews for Arthur and the Invisibles (Arthur and the Minimoys)
Critic Reviews for Arthur and the Invisibles (Arthur and the Minimoys)
Audience Reviews for Arthur and the Invisibles (Arthur and the Minimoys)
½
they take the animation very seriously with this film and the end result is a pretty entertaining film thats not saying it was good but it had enough cheese factor to keep me watching
Michael Edwards
Super Reviewer
½
The movie seemed a little bit rushed to me. It's basically a good one for the kids. And the character "Maltazard" reminded me of "Voldemort" from Harry Potter. It's watchable. I like Freddie Highmore's accent. He always seems decent and into this sorta movies. Cute kid.
Dead Angel
Super Reviewer
I thought that it was inventive and from going to animation from real life was a real cool treat! It seemed like it was going back and forth into two different movies theatres but seeing the same conecpt in animated form, which was a really cool effect!
Arthur and the Invisibles (Arthur and the Minimoys) Quotes
There are no approved quotes yet for this movie.