Dark City
(1950)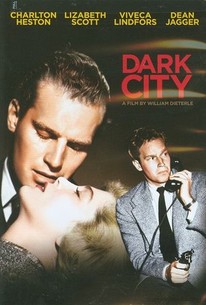 AUDIENCE SCORE
Critic Consensus: No consensus yet.
Movie Info
Though he had previously appeared in David Bradley's film adaptation of Julius Caesar, Dark City marked Charlton Heston's first role in a major Hollywood production. Danny (Heston) and his pals Augie (Jack Webb), Soldier (Henry Morgan), and Barney (Ed Begley Sr.) set up a poker game to take Arthur Winant (Don DeFore) for all his money, but after the fact they discover that the money he lost wasn't really his and, in desperation, Arthur killed himself. Arthur's brother Sidney (Mike Mazurki), a large man not known for his emotional stability, becomes enraged when he learns the facts about Arthur's death, and he vows to kill the men responsible. When his friends start dropping like flies, Danny hides out with his girlfriend, nightclub singer Fran Garland (Lizabeth Scott), and pays a visit to Arthur's widow Victoria (Viveca Lindfors) in hopes of finding out who the killer might be. Jack Webb and Henry Morgan later reformed after their first appearance together as criminals when they co-starred in the TV show Dragnet.
Critic Reviews for Dark City
All Critics (3) | Fresh (1) | Rotten (2)
Mr. Heston, who appears to be able to act as well as to project a virile personality, has yet to find out that trying to deliver a well-rounded, intelligent characterization under these circumstances only compounds confusion.
... an unambitious but handsome production from reliable studio hand William Dieterle.
The dark mood is set by Victor Milner's excellent B&W photography.
Audience Reviews for Dark City
Plot cul de sac: the movie! Watch as a mysterious, faceless killer stalks people while they casually try to find out who he is (and generally mill around for an hour and a half). Also be sure to check out Lizabeth's Scott's performance as the extraordinary needy female lead. There are no lengths that she will not go to to proves how needy she is. "Love me, Danny, please, oh Danny, why don't you love me? Am I crowding you, Danny?"
Brett Warren
Super Reviewer
Good solid noir with competent performances although Lizabeth Scott has been better elsewhere but that can be somewhat attributed to the fact that her character is such a doormat. A nice dark attitude permeates the film which is essential to any quality noir. Heston's part is more ambiguously shaded than many of his later roles where he often had a tendency to play self righteous blowhards or iconic figures.
Dark City Quotes
There are no approved quotes yet for this movie.