The Passage
(1979)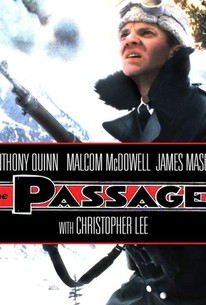 AUDIENCE SCORE
Critic Consensus: No consensus yet.
Movie Info
Director J. Lee Thompson directed this World War II adventure drama from a script by author Bruce Nicolaysen who adapted the screenplay from his novel The Perilous Passage. Anthony Quinn stars as a brave Basque mountaineer who is hired by the American military to guide Professor Bergsson (James Mason) and his family over the dangerous Pyrenees. Together the two men struggle to ensure the group's survival and elude Von Berkow a crazed Nazi played by Malcolm MacDowell.
Critic Reviews for The Passage
Audience Reviews for The Passage
½
To get a scientist out of Nazi-controlled territory a sheepherder is hired to help him over the Pyrenees. Only the scientist has his family with him, for one. The other is that the Nazi chasing them is singularly determined. Anthony Quinn plays the shepherd with hidden layers, the best in the film. James Mason's scientist is a walk through. And Malcolm McDowell as the SS officer is the very picture of over-the-top, only upstaged by his jock strap. There are moments of tension. And moments of unintentional comedy.
Kevin M. Williams
Super Reviewer
This is the film that was allegedly so controversial that it only played for one week in one theatre in the US and has only been released once on VHS in Europe but never in the States. *SPOILERS* It wasn't half as gruesome as I had expected based on all that hype. Maybe it was the cracktasticness of Malcolm's character that made people so averse to this film? There were plenty of films around in the 70's that depicted the Nazis in a sadistic and sexual manner ? Ilsa She-Wolf of the SS ('74), Salon Kitty ('76), The Night Porter ('74) and a whole bunch of different kinds of Camps ? but not necessarily as big jokesters, which is what Von Berkow is. Sadistic, yes, but in a facetious way. Or maybe it was the snow, like James Mason said? But having to watch people being surrounded by cold, damp snow half of the film isn't enough to give it an R rating, now is it? There are only about three somewhat disturbing scenes and one really sad one, but that's it. A Clockwork Orange ('71) and Caligula ('79) are way worse. Moving on... The Passage doesn't have much of a plot. I don't know whether reading the book first helps at all, as I haven't had the pleasure(?) of doing so. A Basque shepherd is hired by the French Resistance to transport Some Very Important Professor and his family from Toulouse across the Pyrenees to safety before the SS get to them. A bunch of running around, hiding, and interrogating people ensues. And, well, that's about it. If it weren't for Malcolm, this film would hardly be worth a watch. But thanks to his brilliant mind, it's not really all that bad.
vieras esine
Super Reviewer
The Passage Quotes
There are no approved quotes yet for this movie.