The Baxter
(2005)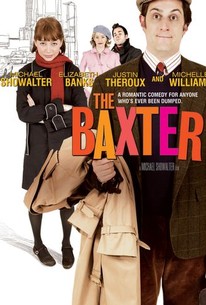 Movie Info
A man with a "doormat" personality tries standing up for himself for a change in this comedy. Mild mannered tax accountant Elliot Sherman (Michael Showalter) is what he calls a "Baxter": the kind of calm, unexciting fellow who "wears sock garters" and "enjoys raking leaves." Loved by bosses and parents, Elliot is a perfectly nice guy. And that's his problem -- he's safe and pleasant, but not very interesting, so as a consequence he hasn't had much luck with long-term relationships, and more than one woman has abandoned him for someone more exciting. Elliot believes his luck has finally changed for the better when he becomes engaged to Caroline Swann (Elizabeth Banks), a smart and attractive editor at a successful magazine. However, a few weeks before the wedding, who should come back into Caroline's life but Bradley Lake (Justin Theroux), her high school sweetheart and, according to many, the great love of her life. Bradley quickly makes it clear that he wants to win Caroline back, and generally in such circumstances Elliot would politely step aside, but just this once Elliot decides to fight for the woman he loves. Elliot gains an unexpected champion in Cecil Mills (Michelle Williams), a frumpy but adorable temp employee at his office who encourages Elliot to develop a take-charge attitude, though the results aren't quite what he expects. The Baxter was written and directed by Michael Showalter, who also plays Elliot; Showalter was a member of the sketch comedy troupe the State, and also works with the comedy performance trio Stella, whose other members, Michael Ian Black and David Wain, also appear in the movie.
Critic Reviews for The Baxter
Audience Reviews for The Baxter
½
CUTE! Peter Dinklage completely stole the movie, as he always does. Michelle Williams is adorable, as she always is. Very cute and offbeat.
Leigh Ryan
Super Reviewer
this low-key comedy invents a culture of upscale WASP nerddom that Showalter gets to act out with the maximum mannerisms; Rudd and Banks are unfortunately diminished, mostly by mediocre dialogue; a major step forward in portraying the ultra-cool romantic rival as shallow and tiresome, showing how a person can still look pretty lame even after they fulfill a hip-suave-sensitive checklist--more realistic than Bradley Cooper in Wedding Crashers, the long-delayed post-PC-evolution of the Omega Theta Pi psychopaths in Animal House
Adam Mahler
Super Reviewer
A really great and innovative way of doing a romantic comedy.
James Alvarez
Super Reviewer
The Baxter Quotes
There are no approved quotes yet for this movie.