The Firm
(1988)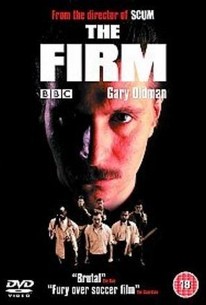 AUDIENCE SCORE
Critic Consensus: No consensus yet.
Movie Info
The Firm, acclaimed British television director Alan Clarke's last feature film, deals with the football hooliganism that was such a serious problem in England during the 1980s. Gary Oldman stars as Bex, a real estate agent whose true passion is being the "top boy" of the Inter-City Crew, or ICC, from West Ham (based on the real-life Inter-City Firm). As the film opens, Bex is engaged in a football match while his car is being vandalized by rivals from Birmingham, led by Yeti (Mike Leigh regular Philip Davis, who also co-starred in Clarke's Scum). His mates urge Bex to seek violent revenge immediately, but he has other plans. Bex calls a meeting with the two other major "firms" in England and proposes that they band together for a trip to Germany to face off against Dutch hooligans at the European Cup. But his rivals balk because Bex insists on leading the new national firm. It's decided that whichever firm comes out on top in a round robin series of battles will lead them all to Germany. But Yeti continues to target Bex and his crew, and as the violence escalates, there's growing dissension in the ranks. Further complicating matters, Bex's wife, Sue (Lesley Manville, Oldman's one-time wife and another Leigh regular), takes a dim view of his violent "hobby," and their relationship takes another hit when their toddler son gets hold of Bex's beloved Stanley knife. The Firm's airing on the BBC created some controversy. Clarke went on to direct the influential experimental film Elephant before he died of cancer in 1990. ~ Josh Ralske, Rovi
Critic Reviews for The Firm
Audience Reviews for The Firm
I'm rating "The Firm" as high as three stars mostly because of Gary Oldman's fiery performance, but the sports-goon mentality depicted in this film is so alien and repulsive to me that I really had a hard time keeping a scowl off my face while watching. I also must plead guilty to having difficulty understanding some of the dialogue, between the heavy accents and the regional slang. The directing of the final scene puzzled me -- it almost played like a segment from the evening news, where the characters were swaggering in front of some unseen interview correspondent. A strange shift in tone. Almost like breaking the fourth wall.
Eric Broome
Super Reviewer
½
There are a lot of football-violence films, but they're all Spurs, Villa, et al. This film is the Manchester United treble-winning team of '99 - unstoppable. This is mainly all thanks to Oldman going bugnuts and off the wall in one of his best performances as a man who leads two lives, which can only end in tears and bloodshed. It shows both sides of their actions and nicely distances itself from the actual game, proving that these 'firms' are actually nothing to do with football. This film is the King, the Top Dog and the Guv'nor.
Marcus Woolcott
Super Reviewer
Extremely good view of the early eighties firms.
Barry Lappin
Super Reviewer