The Business
(2005)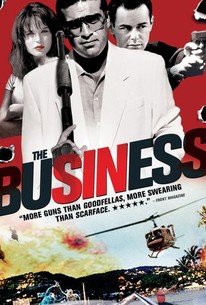 Movie Info
Frankie, is a young lad on the run from the high-rise ghettos of South London, to a new life in the Costa Del Sol with nothing but a tin stuffed full of cash in his hand luggage. Having no idea that this delivery of cash, to super-suave playboy and ex-con Charlie, will change his life forever, he soon becomes one of the gang, and finds himself drawn into a flamboyant and violent world of organized crime.
Critic Reviews for The Business
Audience Reviews for The Business
½
Another British gangster flick filled with more cockneys than a south east cafe, Nick Love is at it again like his best mate Ritchie and to be fair to him he does make a solid flick. All the usual suspects are back again from Love's previous film to portray your common bunch of English criminals up to no good but this time they are all on the continent in Spain living it up with booze, drugs, sand n sex. Its pretty much exactly what Spain is really like around the coast, full of Brit chavs and Brits with money all fat and tanned looking like Del Trotter. Nothing new to see here plot wise, its all about drug dealing, beating people up and the odd double cross but it is made and directed well looking spot on for its 80's setting. Love is a pro at getting that 80's look like his other film 'The Firm' and this film is probably his best so far, they all are cockney based plots of course. Not too different from 'Layer Cake' but not as good, close but this came one year too late basically and was beaten to the punch by Vaughn's film. On the plus side the film has a great soundtrack but you do get the impression Love has crammed in as many classic 80's tunes as possible just to get a good soundtrack deal for sales.
Phil Hubbs
Super Reviewer
½
One of Danny Dyer's better films and certainly Nick Love's best. It's a harsh lesson to the quick rise and fall of an underworld lifestyle, perhaps glamourised a little too much, but a pretty good watch all the same. There are some great characters created here, in typical Brit crime abroad fashion.
Lady D'arbanville
Super Reviewer
½
Far from being in the same league as Goodfellas, Casino. However this is an enjoyable British film showing the rise and fall of an East London gangster getting involved in the drug scene in Spain. Set in the 80's with the typical fashion of the time but with a great soundtrack to boot. Quite violent, brutal and with a lot of swearing as well but an interesting story all the same.