Solntse (The Sun)
(2005)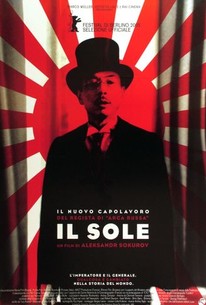 TOMATOMETER
AUDIENCE SCORE
Critic Consensus: Certainly not for the impatient, Aleksandr Sokurov's deliberately paced look at Hirohito in the waning days of World War II is both enlightening and admirable in its restraint.
Movie Info
The events surrounding Japanese emperor Hirohito's August 1945 call for a complete cease fire among his troops serves as the subject of Alexander Sokurov's thought-provoking historical drama. In the aftermath of Hiroshima and Nagasaki, Emperor Hirohito (Issey Ogata) announces to the world that Japan will surrender unconditionally. His declaration was broadcast over the radio on August 15, 1945, and stunned the Japanese people. In this film, Sokurov details not only the events surrounding the emperor's declaration of surrender, but his renunciation of divine status as well.
Critic Reviews for Solntse (The Sun)
Audience Reviews for Solntse (The Sun)
"The Sun" is a surprisingly lightweight movie, considering its setting at the end of World War II. The tone is deeply ironic, wondering how Emperor Hirohito(Issei Ogata) could allow the atrocities of an inhuman war to be fought in his name if he was so cultured, educated and interested in the sciences which clashes with the divinity forced upon him.(Correct me if I am wrong, but wasn't Hirohito just a figurehead?) In fact, his palace design owes more to Western than Japanese ideas. Upon his desk are the busts of Abraham Lincoln, Charles Darwin and Napoleon.(Well, the last one did not turn out so well.) In fact, Hirohito seems positively hurt at American anti-immigration legislation, partially blaming that for the war. And as General Douglas MacArthur(Robert Dawson) meets with Hirohito and does not find the devil he was expecting, the emperor discovers a world devastated just outside of his door that he was hardly aware of since most of his learning comes from books and tutors.
Solntse (The Sun) Quotes
There are no approved quotes yet for this movie.