L'Enfer
(2005)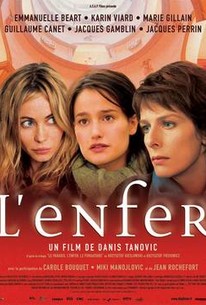 Movie Info
Director Danis Tanovic picks up where the late-Krzysztof Kieslowski left off by taking on the second installment of Kieslowski's "Heaven," "Hell," and "Purgatory" trilogy (the first was adapted by Run Lola Run director Tom Tykwer) with this tale of a family whose dark past returns with a vengeance. Loosely modeled by screenwriter Krzysztof Piesiewicz on the second act of Dante's Inferno, Hell tells the story of sisters Sophie (Emmanuelle Béart), Céline (Karin Viard), and Anne (Marie Gillain), whose lives were turned upside down when their father was imprisoned and their mother was rendered a wheelchair-bound mute. As the estranged sisters are slowly brought back together by a mysterious and handsome stranger who is somehow involved with the tragic events of the past, the questions that had for years gone unanswered slowly begin to drift into focus. ~ Jason Buchanan, Rovi
Critic Reviews for L'Enfer
Audience Reviews for L'Enfer
Hell (L'Enfer as it's known in its native France) is the second film in a planned trilogy that began with the underrated Heaven directed by Tom Tykwer and starring Cate Blanchett and Giovanni Ribisi, based upon scripts by the late, great Krzsztof Kieslowksi (the Three Colours trilogy). The two films share little in common aside from their 'unclassifiableness' and their emotional power.
A difficult film to analyse, Hell, directed by Academy Award winner Danis Tanovic (No Man's Land) is overflowing with ideas concerning philosophy, psyche, and emotional detachment and yet is still accessible, unpretentious and, whilst it takes itself necessarily seriously, it is also sometimes blackly funny. There's an exceptional eye for detail that's appropriately worthy of Kieslowski himself; even the opening credits concerning the plight of a bird and the eggs she is watching is gripping and gives the first insight into some of the horror that lies ahead. Although, in all probability, as with Heaven, the title is meant to be ironic, for despite some excellently shot shocks, a pervading sense of dread and a creepily effective final scene, there is some hope to the characters' lives as the film unwinds its secrets.
Stunning cinematography, a thoughtful color scheme (each story thread seems to have its own tone), featuring a nicely dramatic music score and complimented by a trio of leading French actresses giving nuanced performances (Emmanuelle Béart, Karin Viard and Marie Gillain), Hell is very impressive.
Daniel Parsons
Super Reviewer
L'Enfer Quotes
There are no approved quotes yet for this movie.