Neverwas
(2005)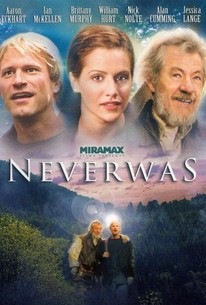 Movie Info
A man seeks to unlock the mysteries of his family's tragic past in this drama. Zach Riley (Aaron Eckhart) is a psychiatrist who has resigned a prestigious position at a major university to take a job at the Millwood Clinic, a private residential facility run by one Dr. Reed (William Hurt). Riley tells Reed he was inspired to come to Millwood by the case of a family friend who was a patient there years before, but what Riley doesn't mention is the person in question was his father, T.L. Pierson (Nick Nolte), a successful but reclusive children's author whose book "Neverwas" became a remarkable critical and popular success. For all his talent and success, Pierson was haunted by mental illness and drug addiction, and after leaving Millwood he committed suicide, with young Zach finding the body. Ever since, his mother (Jessica Lange) has been bitter and blamed Zach for Pierson's death, and he's come to Millbrook looking for answers and closure regarding his dad. While working with the patients at Millwood, Riley strikes up a friendship with Gabriel (Ian McKellen), a charming older man with a poor connection to reality who was friendly with Pierson when they were both in treatment there; Riley also renews his childhood friendship with Maggie Blake (Brittany Murphy), a Millwood intern who was powerfully affected by "Neverwas" when she was young. Neverwas is the first feature film from writer and director Joshua Michael Stern.
Critic Reviews for Neverwas
Audience Reviews for Neverwas
Cast: Aaron Eckhart, Ian McKellen, William Hurt, Ken Roberts, Bill Bellamy, Michael Moriarty, Brittany Murphy, Jessica Lange, Alan Cumming, Nick Nolte Director: Joshua Michael Stern Summary: After taking a job at the mental institution that once housed his father (Nick Nolte) -- a famous children's author -- erudite psychiatrist Zach Riley (Aaron Eckhart) befriends a schizophrenic (Ian McKellen) who unlocks a string of family secrets. My Thoughts: "The film is a struggle of insanity and what is real. Ian McKellen is brilliant in his role. You get so caught up in his character that you start to question if his insanity is truly a reality. There are a lot of great supporting actors in this film as well. I was pleasantly surprised at how well Brittany Murphy was in this. All the roles I see her in lately are so dark and lacking good acting from her part. But she was full of life in this film, and I liked seeing her that way. Aaron Eckhart is a character that maybe some can relate to in the sense of him still missing and mourning his father after so many years. I thought he was great. The story may be predictable for some, but just try not to analyze it so much. Just let yourself get swept up in the story. It's a heart warming tale that is also sad and dark at times. It's a great story that should be seen."
♥˩ƳИИ ƜѲѲƉƧ♥
Super Reviewer
½
I really enjoyed this movie. I got a little confused about what was happening from time to time, but I think in the end it all kind of came together for me. I really think that Ian McKellan and Aaron Eckhart are very fine actors, and definitely made this movie worth watching.
Cynthia S.
Super Reviewer
A whole lot of talented people in a film that really never goes anywhere.
Neverwas Quotes
There are no approved quotes yet for this movie.