Chaos
(2005)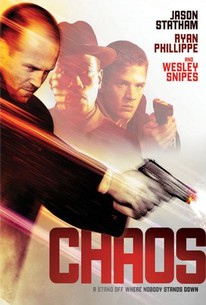 AUDIENCE SCORE
Critic Consensus: No consensus yet.
Movie Info
Two cops are partnered up and must try to uncover how five bank robbers escaped from a bank during a heist.
Critic Reviews for Chaos
All Critics (3) | Fresh (1) | Rotten (2) | DVD (2)
...it's awfully difficult to look past the almost laughably inept instances of plotting within Giglio's screenplay...
Slightly derivative, the plot is nevertheless a well constructed thriller and the target audience will be well satisfied.
August 11, 2006
Audience Reviews for Chaos
Statham goes up against Snipes in this twisty thriller which turns out to be as slippy as a snake towards the end when you don't totally expect it. Its not a huge deal really as I knew Statham couldn't die in a flick haha he's not the type, but I didn't see him going bad, kinda thought he would pop up and save the day. The film kicks off with a good short 'Die Hard' type sequence which makes it seem this film will kick ass, alas it doesn't as after that the film becomes a rather slow burning detective thriller with much talking and a lot of tracking people followed by questioning. To be honest it gets very dull and loses all potential from its action man cast. The ending is a surprise yet not an original concept but its still interesting to actually see the bad guy win for once. Should I be saying that?
Phil Hubbs
Super Reviewer
Had the rest of this film been as good as it's twist then I would have rated this much higher. The storyline itself was enjoyable, but somehow slumped somewhat in the middle. An evolving performance from Ryan Phillippe, but this film was very much highs and lows with nothing much in the middle.
Lady D'arbanville
Super Reviewer
½
Disgraced cop (Statham) who screwed up a hostage situation, is called back into action to "negotiate" a bank hostage job orchestrated by slick operator (Snipes). He drops the ball on this one too, or does he? The heist, and spectacular escape by the perps, leaves no one dead, and not a dime is missing. So what happened? Ryan Philippe plays the talented rookie who is assigned partner with Statham, to figure out what happened. Philippe has a baby-face, but an intelligence and energy and steals every scene. He also is quite heroic. He listens to Snipes' recorded hostage recording, and figures out that he's referring to "chaos theory", in which everything that looks chaotic is actually put back together and makes sense in the end. Never mind that this is not chaos theory! It's just a way to sneak in the title and find out where to find Snipes. Car chases, motorcycle chases, shooting, and to make matters worse, Snipes is taking out all his accomplices one by one, until the climax when Statham and Philippe (who actually have great chemistry by the way) catch up to him. Snipes is really enjoying his role as bad guy, you can tell. But all is not as it seems, so expect a twist. Some I know didn't like the twist, preferring a straight ending,I have to say I have mixed feelings about it. I feel the ending worked but can see where other wouldn't like it. In the end, this is a good action thriller. Worth a look
David Ladd
Super Reviewer
Chaos Quotes
There are no approved quotes yet for this movie.