Aliens
(1986)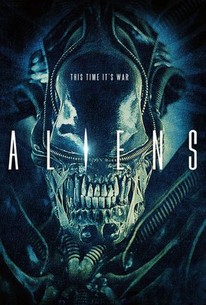 TOMATOMETER
AUDIENCE SCORE
Critic Consensus: While Alien was a marvel of slow-building, atmospheric tension, Aliens packs a much more visceral punch, and features a typically strong performance from Sigourney Weaver.
Movie Info
Big-budget special effects, swiftly paced action, and a distinct feminist subtext from writer/director James Cameron turned what should have been a by-the-numbers sci-fi sequel into both a blockbuster and a seven-time Oscar nominee. Sigourney Weaver returns as Ellen Ripley, the last surviving crew member of a corporate spaceship destroyed after an attack by a vicious, virtually unbeatable alien life form. Adrift in space for half a century, Ripley grapples with depression until she's informed by her company's representative, Carter Burke (Paul Reiser) that the planet where her crew discovered the alien has since been settled by colonists. Contact with the colony has suddenly been lost, and a detachment of colonial marines is being sent to investigate. Invited along as an advisor, Ripley predicts disaster, and sure enough, the aliens have infested the colony, leaving a sole survivor, the young girl Newt (Carrie Henn). With the soldiers picked off one by one, a final all-female showdown brews between the alien queen and Ripley, who's become a surrogate mother to Newt. Several future stars made early career appearances in Aliens (1986), including Lance Henriksen, Bill Paxton, and Reiser. ~ Karl Williams, Rovi
Critic Reviews for Aliens
Audience Reviews for Aliens
While the first film focused on creating an atmosphere of pure tension, this sequel is much more action-oriented, even if its first hour is actually very slow - and instead of one alien, Cameron has now a horde of goo-spewing, acid-blood creatures to scare the audience to death.
Carlos Magalhães
Super Reviewer
½
Director James Cameron's 1986 blockbuster follow-up to Ridley Scott's Oscar winning science-fiction/horror flick that became one of the biggest grossing films of 1979 asks a good question to a successful hit.....How do you make a successful sequel to a film in which much of the suspense comes from learning about the mysterious monster? The Answer? Make a lot of scary monsters,and this time around have our heroine armed to the teeth with an array of weapons ready to take them on and face an all out war against them including the "Mother" of all aliens! "This time,its war,"was the tagline and Aliens went on to become one of the biggest blockbuster films of 1986 and not to mention ending up being nominated for Seven Oscars including a Best Actress nomination for Sigourney Weaver and winning two Oscars for Sound Effects Editing and Special Visual Effects. Filled with quotable lines("They mostly come at night.....mostly),and great character performances including scenes of wall to wall action galore and the ultimate showdown with the heroine and the Mother that brought audiences to there feet when "Aliens" became the runaway hit of 1986. "Aliens" cemented Sigourney Weaver's place as an female action star as well as a boxoffice magnet-draw while it also gave James Cameron a stepping stone as one of the most innovative filmmakers of the 1980's,a position he's managed to hold well into the new millennium considering giving ALIENS not one of the best films of the 1980's,but opened up a new genre in the science fiction/action-adventure genre ...a title that holds up well 30 years later. ALIENS opened in 1,437 theaters nationwide on July 18,1986 and it went to an opening gross of $6.9 million and a opening weekend gross of $10 million. It was the Number One movie at the box-office for four consecutive weeks grossing more than $85.1 million becoming the seventh highest grossing film of 1986 taking in an astounding $180 million at the boxoffice to become the highest grossing "R" rated movie of all time. Even 30 years later it still packs a visceral punch.
Mister Caple
Super Reviewer
½
I liked this more than the first one. Simply a rocking movie & I do recommend it to watch. But you need to watch the first one to get the general idea about the story line.
Dead Angel
Super Reviewer
Aliens Quotes
| | |
| --- | --- |
| Ellen Ripley: | Show me everything. |
| | |
| --- | --- |
| Carter Burke: | I made a bad call. |
| | |
| --- | --- |
| Newt: | Ripley, she doesn't have bad dreams because she's a doll. |
| | |
| --- | --- |
| Cpl. Dwayne Hicks: | It doesn't mean we're engaged or anything. |