Rise: Blood Hunter
(2007)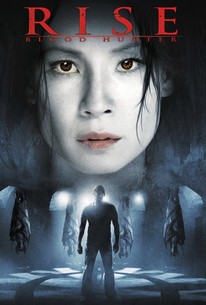 Rise: Blood Hunter Photos
Movie Info
A woman who joins the undead against her will seeks vengeance against the ghouls who transformed her in this thriller. Sadie Blake (Lucy Liu) is a journalist who becomes acquainted with a group of beautiful but doomstruck partiers while following a story, led by the charismatic Bishop (James D'Arcy). While Sadie is taken with Bishop's good looks and sinister charm, she senses there's something dangerous about him, but it's not until she wakes up in the city morgue that she learns his secret -- Bishop is a vampire, and Sadie has joined his underlings as one of the undead. Angry and betrayed, Sadie is determined to stop Bishop and his compatriots, and she prowls the city with bow and arrow, ready to stake them from a distance when she spies them. Sadie finds an unlikely ally in her crusade in Detective Rawlins (Michael Chiklis), a police investigator whose daughter was transformed into a night creature by Bishop. However, Sadie is finding it increasingly difficult to resist her growing thirst for the blood of the living, becoming the sort of being she has grown to hate. Also featuring Carla Gugino, Robert Forster, and Nick Lachey, Rise: Blood Hunter received its world premiere with a special midnight screening at the 2007 Tribeca Film Festival.
News & Interviews for Rise: Blood Hunter
Critic Reviews for Rise: Blood Hunter
Audience Reviews for Rise: Blood Hunter
Rise is fun trash. It's nothing amazing, but totally watchable if you're in the mood for a erotic vampire detective noir. Also watch for the Marilyn Manson & Robert Forester cameos. Did I mention it's shot by John Toll. Yes that John Toll.
Ken Stachnik
Super Reviewer
I'll be quite brief in this review for I feel that this movie fails to provide good scares and a good story. First off, Lucy Liu is plainly a bad actress. She can't act. This movie still proves that. I'd figured she'd retire after the lame Charlie's Angels movies. Anyways, getting back to this film, the movie is full of flaws, the dialogue between the characters is completely utter garbage and the plot borrows alot of from the Blade franchise, which in my opinion was terrible. On a high note on this film, Marilyn Manson makes a cameo as a bartender. Which I found was amusing to see. At least he was better than Lucy Liu, and he had less than 5 minutes on screen. I thought the movie was bad and with Lucy liu attempting the Buffy the vampire slayer routine; it just didn't work.
A reporter is turned into a vampire and she sets about tracking down and killing her attackers. The opening scene of this film is one of the lamest Playboy style pseudo-lesbian scenes I have ever seen in a "serious" film and that just about sets the level of the entire movie. It's basically just Lucy Liu and her cheekbones wandering around with a mindlessly disinterested look on her face, occasionally getting naked and dousing herself in fake blood. There is no action to speak of, the disjointed timeline is pointless and does nothing but mildly confuse in an attempt to make the plot look a lot more clever and complex than it actually is. The casting of Lucy and Robert Forster in a cameo are clearly a deliberate ploy to give this softcore TV movie standard bag of cliches a Tarantino flavour but its total lack of invention, humour or excitement make it a real chore to sit through. And any film that manages to make Lucy Liu in the nip seem like a bore is going SERIOUSLY wrong somewhere...
Rise: Blood Hunter Quotes
There are no approved quotes yet for this movie.