All About Eve
(1950)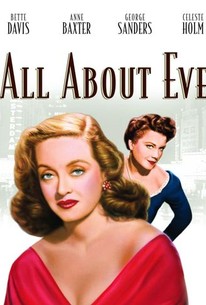 Movie Info
Based on the story The Wisdom of Eve by Mary Orr, All About Eve is an elegantly bitchy backstage story revolving around aspiring actress Eve Harrington (Anne Baxter). Tattered and forlorn, Eve shows up in the dressing room of Broadway mega-star Margo Channing (Bette Davis), weaving a melancholy life story to Margo and her friends. Taking pity on the girl, Margo takes Eve as her personal assistant. Before long, it becomes apparent that naïve Eve is a Machiavellian conniver who cold-bloodedly uses Margo, her director Bill Sampson (Gary Merill), Lloyd's wife Karen (Celeste Holm), and waspish critic Addison De Witt (George Sanders) to rise to the top of the theatrical heap. Also appearing in All About Eve is Marilyn Monroe, introduced by Addison De Witt as "a graduate of the Copacabana school of dramatic art." This is but one of the hundreds of unforgettable lines penned by writer/director Joseph L. Mankiewicz, the most famous of which is Margo Channing's lip-sneering admonition, "Fasten your seat belts. It's going to be a bumpy night." All About Eve received 6 Academy Awards, including Best Picture. ~ Hal Erickson, Rovi
News & Interviews for All About Eve
Critic Reviews for All About Eve
Audience Reviews for All About Eve
½
This sophisticated tale of ambition, glamour and backstabbing in Hollywood and show business is superbly directed by Mankievicz, with a delicious sense of humor, a terrific ensemble cast and an altogether memorable dialogue from beginning to end.
Carlos Magalhães
Super Reviewer
The script is spectacular. And there's just so much acting to appreciate in this film, especially Bette Davis's snarky, proud, self-indulgent and insecure diva who gradually coaxes forth a full-on tempestuous storm, a "hysterical screaming harpy". This was my first introduction to Ms Davis, and though I'd never want to cross swords with her, I want more. I loved her and Merrill, they were romantically adorable! Bonus: a resplendent, bright-eyed Marilyn Monroe with a naughty smile as she shimmies out of her white fur coat to go sweet-talk a producer.
Letitia Lew
Super Reviewer
Brilliant! A classic film; absolutely fantastic. All About Eve is a film about a young woman named Eve (Baxter) who aligns herself into the life of aging actress Margo Channing (Davis) and ultimately schemes herself into the theatre spotlight. I really liked it! The screenplay is one of the best of all time, perfect in every way. It has sort of a unique and modern flair to it, making All About Eve memorable and timeless. The performances were wonderful, also, especially Betty Davis. All About Eve garnered a total of 5 Oscar nominations for the cast; after viewing the film it's clear why. Anne Baxter, George Sanders, Celeste Holm, Gary Merrill, and Hugh Marlowe all give great performances. This was also my first Marilyn Monroe film; she has a minor role. Nominated for an astounding 14 Academy Awards and winner of 6 including Best Picture, Best Director, and Best Screenplay, All About Eve is a classic piece of cinema that is a must-see. I cannot recommend this film enough.
Jameson Worley
Super Reviewer
All About Eve Quotes
| | |
| --- | --- |
| Addison De Witt: | I think the time has come to shed some of your humility. It is just as false not to blow your horn at all as it is to blow it too loudly. |
| Eve Harrington: | I don't think I've done anything to sound off about. |
| Addison De Witt: | We all come into this world with our little egos quipped with individual horns. If we don't blow them, who else will? |
| | |
| --- | --- |
| Lloyd Richards: | It's about time the piano realized it has not written the concerto! |
| | |
| --- | --- |
| Margo Channing: | Fasten your seatbelts. It's going to be a bumpy night. |
| | |
| --- | --- |
| Margo Channing: | hold on, it's going to be a bumpy night |
| Margo Channing: | Hold on, it's going to be a bumpy night. |