Nana
(2005)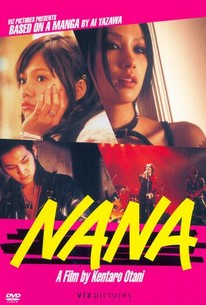 Movie Info
Ai Yazawa's popular manga concerning two young women who couldn't be more different despite sharing the same name comes to the screen in this musical drama starring J-Pop icon Mika Nakashima and actress Aoi Miyazaki. Nana "Hachi" Komatsu (Miyazaki) has traveled with her boyfriend to Tokyo in hopes of starting a new life. Elsewhere in this neon-lit metropolis, ambitious punk rock beauty Nana Osaki (Nakashima) arrives determined to become the next big thing in the nocturnal world of rock & roll. On the surface it would seem that these two girls would have little in common, but as they share their dreams and set out in search of true happiness, the girls who couldn't be more different forge a friendship that will last a lifetime. Kentaro Otani directs a film featuring music by J-Rock megastar Hyde.
Audience Reviews for Nana
Marvelous drama adapted by the Manga comic book in a chance encounter between two girls of the same name, "Nana", triggers a series of events and relationships. I haven't read the comic book yet so I see the story is as interesting and the emotional scenes are pretty touching. Mika Nakashima was great at expressing her voice as the singer and Aoi Miyazaki was the perfect Hachi, looked so cute and innocent young woman. At the end, it's the friendship and comradeship between the two girls that gives this Japanese movie an uplifting, feel-good ending.
Dean McKenna
Super Reviewer
½
Two very different 20 year old women meet on a train to Tokyo. Other than the fact they're both named Nana, they have very different pasts and personalities. Despite this, they're destined to become very big parts of each other's lives. Based on the very popular anime and manga of the same name, this is a fun adaption. The musical aspects of the story are kept, and are as nearly as important to the story as the relationship between the two Nana's. Speaking of, the actresses chosen to play the two title characters are great, and the story is as interesting for guys as it is the girls who are the original audience. NANA was a good movie, I liked it. Obviously it's more recommended for people who are already familiar with the source material, but even NANA newbies should enjoy this.
½
Nana may suffer from being a condensed version of an expansive Manga universe, but it also knows exactly how much time to spend on individual plots strands. Nana is a coming of age, female friendship film that handles immature and young emotions with absolute maturity. The most impressive aspect was creating a relationship between one of the protagonists boyfriends and another girl. It easily could have made him a villain, but instead took an unbiased look at how the relationship came to be. Luckily, for a film focused on bands, the music is relatively good. Nakashima and Miyazaki both inhabit their roles well and build up a believable friendship. Highly enjoyable, even if it doesn't quite feel complete.
Luke Baldock
Super Reviewer
Nana Quotes
There are no approved quotes yet for this movie.