Dirty
(2006)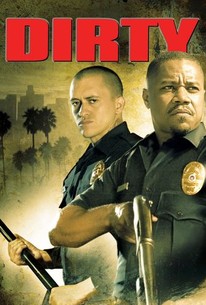 Movie Info
In a city ravaged by violent crime, the police department's anti-gang task force uses any means at its disposal to get the bad guys off the streets, with cops often acting as judge, jury and executioner. As the unit's self-justifying brutality and corruption spiral further out of control, gang member-turned-cop Armando Sancho begins to question the life he and his partner Salim Adel have chosen. So when Internal Affairs agents investigating the division's abuses offer him a deal to come clean about the unit's misdeeds, Sancho must decide whether to heed his conscience or his loyalty to his fellow officers. On the hot, smoggy day Salim and Sancho are scheduled to testify to IA, the two rogue cops agree to run a lucrative, illegal operation for the station's top brass. As their increasingly bloody mission takes them from one end to the other of the sprawling city they've sworn to protect and serve, Salim and Sancho learn that getting clean isn't nearly as easy as being "Dirty."
Audience Reviews for Dirty
training day clone never delivers
Brendan O'Connor
Super Reviewer
This movie is worth watching, a time or two. But really if your looking for a great movie of this nature just watch "Training Day". This was much like that, with a lot less planning to make it truly good.
Bobby Hobbs
Super Reviewer
This is no Training day, it's dark, violent noir that fails to deliver in it's story. It's highly stylized but very dull with a waste of a good cast.
Dirty Quotes
There are no approved quotes yet for this movie.