All Night Long
(1981)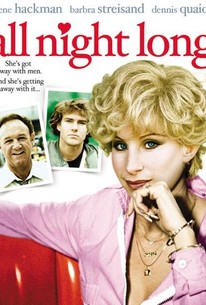 Movie Info
Gene Hackman plays a disgruntled suburbanite who manages the Ultra-Sav, an all-night drugstore. He hates his job, hates his debts and responsibilities, and isn't overly fond of his wife (Diane Ladd) and son (Dennis Quaid). Partly as a form of protest, Hackman enters into an affair with Barbra Streisand, one of his wife's distant relatives (don't ask how she's related - it takes Hackman about thirty seconds to explain it to another character). Streisand doesn't belong in this picture at all, but she can be forgiven her acting excesses because she wasn't the first choice for the role anyway (Lisa Eichhorn dropped out just before shooting began). The best moments in All Night Long involve the steady stream of oddballs and losers who trickle into Hackman's establishment. There is also a cute Apocalypse Now parody involving a battery-operated toy helicopter. The principal attraction of All Night Long is Gene Hackman playing an endearingly recognizable modern type.
Critic Reviews for All Night Long
Audience Reviews for All Night Long
½
How can anyone resist a movie who's tagline is "Human beings are garbage". Sign me up! Actually this film is not near as disturbing as the 2 others in the trilogy, but having said that, this film is disturbing as fuck. I prefer my nihilistic films to be more about ideas than a piece of junk shock value film, and the ideas in this whole trilogy are simply terrible, but very confrontational. An excellent nasty movie.
Christopher Brown
Super Reviewer
All Night Long Quotes
There are no approved quotes yet for this movie.