Klimt
(2005)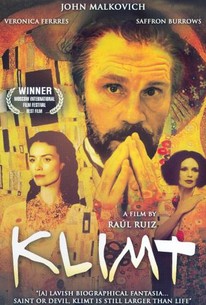 Movie Info
"Klimt" examines the last years of Austrian artist Gustav Klimt's life, from 1900 to 1918.
Audience Reviews for Klimt
½
[font=Century Gothic]"Klimt" starts in a hospital in Vienna in 1918 as both the First World War and the Austro-Hungarian Empire are coming to an end. Of all the beds occupied, only the one containing the dying artist Gustav Klimt(John Malkovich) is of interest to the viewer. In his delirium, he thinks back to 1900 and a fateful trip to Paris.[/font] [font=Century Gothic][/font] [font=Century Gothic]Written and directed by Raul Ruiz, "Klimt" is a return to the extreme stream of consciousness territory that he had previously visited with his adaptation of Proust's "Time Regained" which also featured John Malkovich. There are some nice touches with this movie such as the silent movie within a movie and the idea that Klimt represented the first breath of the 20th century in conflict against the dying 19th century. But by venturing too far into a house of mirrors, Ruiz fails to deliver anything of substance concerning the artist, nor is it anywhere near as erotic as it should have been.[/font]
Klimt Quotes
There are no approved quotes yet for this movie.