Flight 93
(2005)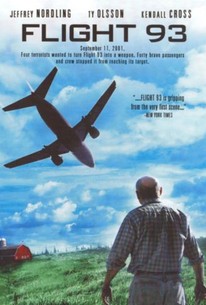 AUDIENCE SCORE
Critic Consensus: No consensus yet.
Movie Info
Although al-Qaida terrorists hijacked four commercial airliners on September 11, 2001, only three reached their intended targets. United Airlines Flight 93, a Boeing 757 that departed late from Newark to San Francisco, crash-landed near Pittsburgh instead of becoming a weapon against the White House or the United States Capitol. This speculative cable-TV docudrama imagines how the flight might have played out for the flight's passengers, who are believed to have risen up against their hijackers after being alerted to the other terrorist attacks via cell phone. Unfolding in more or less real time, Flight 93 depicts the hijacking from the viewpoints of those on the flight and those on the ground. Tom Burnett (Jeffrey Nordling), Mark Bingham (Ty Olsson), Todd Beamer (Brennan Elliott), and many of the flight's other, posthumously famous passengers are portrayed, as are their families, law-enforcement agents, air-traffic controllers, United employees, and cell-phone company personnel. Flight 93 originally aired in January 2006 on the A&E cable network, several months after the Discovery Channel debuted its documentary The Flight That Fought Back and several months before the feature film United 93 premiered.
Critic Reviews for Flight 93
Audience Reviews for Flight 93
A good film that relives the events of the flight 93.
I thought this was a hell of alot better then united 93, which subsequently was released at the same time, I found this version way more intense.
Done super-well. A better movie then United 93, especially, if your looking more into the effect on our lives, or family members lifes, rather then just the timelined events.
Bobby Hobbs
Super Reviewer
Flight 93 Quotes
There are no approved quotes yet for this movie.