The Violin (El Violin)
(2007)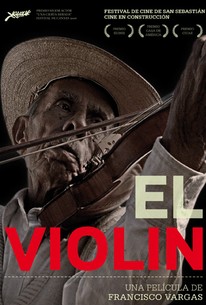 TOMATOMETER
AUDIENCE SCORE
Critic Consensus: Vargas makes a strong debut with The Violin, which features crisp photography, a poetic screenplay, and a breakthrough performance by Tavira.
The Violin (El Violin) Photos
Movie Info
Filmmaker Francisco Vargas makes his feature-film debut with this expansion of his well-received short film detailing the struggle between the peasants and military in 1970s-era Mexico. Don Plutarco (Angel Tavira) is a dignified elder who, along with his son Genaro (Gerardo Taracena) and grandson Lucio (Mario Garibaldi), makes his living as a traveling musician. On the side, the trio secretly smuggles weapons and supplies to the freedom fighters who are bravely attempting to overthrow the oppressive regime. When the trio returns to their hometown to find that it has been occupied by the army in their absence and the villagers have been forced to flee, Genaro departs in hopes of salvaging their supplies while Plutarco boldly approaches the squad captain (Dagoberto Gama) with the intention of personally recovering the ammunition on the sly. An outwardly harmless old man who convinces the captain to allow him access to the cornfields in exchange for playing music, Plutarco slowly but surely begins smuggling the ammunition back into the village in his violin case as the unsuspecting military man ravenously gorges himself into oblivion.
News & Interviews for The Violin (El Violin)
Critic Reviews for The Violin (El Violin)
Audience Reviews for The Violin (El Violin)
½
[font=Century Gothic]In "The Violin," Plutarco(Angel Tavira), his son Genaro(Gerardo Taracena), and his son Lucio(Mario Garibaldi) are a trio of troubadours traveling the country attempting to simultaneously supplant their meager income working the land and fund a revolution. For those keeping track, it is Plutarco on violin, Genaro on guitar and Lucio working the tip cup. On the return to their village, the men find a new round of fleeing in progress as the army is on the way. Gerardo runs off, fearing for the safety of his wife and worrying about something he may have left behind...[/font] [font=Century Gothic][/font] [font=Century Gothic]"The Violin" is a cliched movie with little context, replete with two-dimensional characters populating the landscape. It is a shame because there are some particularly good ideas that are just never developed that well, especially the relationship between Plutarco and the army captain(Dagoberto Gama). It is a nice touch that Plutarco creatively explains the peasants' struggle to his grandson as a fable but the villains of the tale turn out to be the ambitious.(Something lost in translation?) For the record, not all ambitious people are bad. What if you want to be the first person to walk on Mars? No harm in that. Or is that the peasants are good just because they are humble, a stereotype if ever there was one?[/font]
If the compelling story and the heartbreaking lead performance aren't enough reasons to see it, the photography alone, then, should be enough.
Quinto Wallight
Super Reviewer
This mexican film, winner at the 2005 CANNES Film Festival, "Un Certain Regard"- Best Actor: Angel Tavira, follows Plutarco (amazing actor Don Angel Tavira), his son Genaro (played by another great actor, Gerardo Taracena) and his grandson Lucio, who lead a double life, as musicians, and as supporters of the guerrilla movement against the government. When the army invades their town, the rebels decide to escape and leave the ammo behind, so, Plutarco, taking advantage of his "inoffensive violinist" looks, treats the captain to violin music everyday, so he can go to his corn field to pick up the ammo he has hidden days before. This low-budget independent movie was filmed in its entirety in black&white and features amazing and heartwrenching performances by Don Angel Tavira, Dagoberto Gama and Gerardo Taracena, it is directed by newcomer Francisco Vargas Quevedo, whose other work include a short film, that served as base for this one, also called "El Violin". Although it opened in 2005 and 2006 around the world, it didn't open until April 2007 in its country, Mexico, because no company wanted to release it and not one theater chain wanted to show it, because of its low-budget and beacuse it wouldn't appeal to larger audiences that seek blockbusters. Like its director, Francisco Vargas said, they know more of "El Violin (Le Violon)" in France, that they do in Mexico and that's sad... Guillermo del Toro approached the mexican senate and urged them to promote films like El Violin, but they've done nothing. Luckily, Cinepolis (LatinAmerica's biggest movie theater chain) picked it up and released it in limited theaters around the country, one of hose located in Tijuana, so yesterday i got the chance to see this marvelous mexican film and it was a wonderful, raw, real experience i'll never forget and i wish for all of you to see it. Following the tradition of my friend Vince Flores, the best snack to watch this movie with is LifeSavers Gummies Bye, and support mexican cinema! Fernando :)
Fernando Rafael Quintero Castañeda
Super Reviewer
The Violin (El Violin) Quotes
There are no approved quotes yet for this movie.