Bon Cop, Bad Cop
(2006)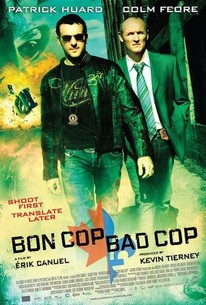 Movie Info
When a crime is committed on the border of Quebec and Ontario, everyone is forced to come together, whether they want to or not. As the investigation gets underway, we meet David Bouchard and Martin Ward, members of their respective provincial police forces who are forced to work together. The two men couldn't be more different. In fact, the only thing they appear to have in common is that they are both cops, albeit cops with totally different styles.
Critic Reviews for Bon Cop, Bad Cop
Audience Reviews for Bon Cop, Bad Cop
This is a brilliant buddy cop film from my native province of Quebec. With a great cast and a good story, this is a very funny film that has plenty of effective laughs that make this film better than most Hollywood-esque buddy cop films. This is a must see film for viewers who enjoy a witty, original and well acted comedy. There is plenty of laugh out loud moments here, and the plot is very engaging as well. The performances of the two lead actors make this film much better, and they have some good on-screen chemistry. This film is well done and the cast pull off something good. Bon Cop, Bad Cop is always engaging due to a fine story, and it has some effective humor. At times there are parts of the film that don't work, luckily the performances are what keeps this film good and fun. This has got to be one of the best Canadian films in quite some time. With some great performances and good jokes, Bon Cop, Bad Cop is a great comedy that is a must see for film fans. The story of the film is engaging and I really enjoyed Colm Feore in this one. Patrick Huard brought a terrific sarcasm quality to his role, and just the differences between the two characters was what made this film so good. If you're looking for a great comedy, then give this one a shot. This is a very unique twist on the buddy cop genre, and one worth watching. This is a different type of comedy in the genre, and it only has been equalled by The Other Guys and 21 Jump Street.
½
Patrick Huard's brainchild is shot in an exciting visual style and overcomes its satirical if admittedly corny plot - part Se7en, part Slap Shot - about two reluctant partner cops (one from Ontario, one Quebecois) who must track down the man masterminding revenge on all those Americans ruining Canada's lifeblood: hockey. A bit formulaic in some aspects, completely novel in others, and fun from beginning to end; the satire strikes a bit too close to its target - the Maple Leafs and Canadiens have been filled in for by the "Loyalists" and "Patriotes" - but this film makes a good commentary on Canadian language politics while providing plenty of laughs and a few chills along the way. Good flick.
Daniel Perry
Super Reviewer
An explosive and wickedly entertaining thriller. Great non-stop fun that packs plenty of action, suspense and outragiously funny laughs. A teriffic buddy cop comedy. Colm Feore and Patrick Huard have fantastic chemistry. An irresistable team. Brilliant, wild and fantastic. Stylish, cool and hilarious. What a great movie. You'll be laughing so hard you will remember why you go to the movies in the first place. Completely and utterly enjoyable from start to finish. Full of wild and funny moments pluse some compelling character development. An original, fresh and classic action-comedy in the tradition of Rush Hour.
Bon Cop, Bad Cop Quotes
There are no approved quotes yet for this movie.