Macbeth
(2006)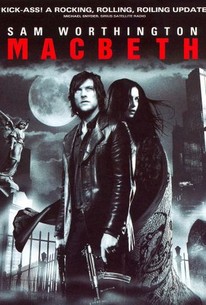 TOMATOMETER
AUDIENCE SCORE
Critic Consensus: A new take on Macbeth relies too heavily on nudity and violence, and ends up looking like a campy 1970s horror movie.
Movie Info
With the 2006 MacBeth, controversial Australian director Geoffrey Wright (Romper Stomper, Metal Skin) launches his fourth big screen outing and continues the trend of reinventing Shakespeare by contemporizing the bard's plays. As in other recent efforts (Richard Loncraine's Richard III (1996), Michael Almereyda's Hamlet (2000)), Wright uses a distinctly postmodern context to extract related themes from the original work. Here, Wright reworks the brutal tragedy Macbeth, retaining its Elizabethan dialogue, but resituating the events within the arena of modern Australian gang violence. His Macbeth (Sam Worthington) is a drug baron and pimp, his Lady Macbeth a Valium-addicted, narcoleptic burnout and manipulator, his Duncan the head of Melbourne's criminal underground. Macbeth and Lady Macbeth murder Duncan in cold blood (framing the servants as responsible), but soon after Macbeth takes the throne, he is undone - and beheaded - by usurper Macduff. Like former adapter Roman Polanski, Wright ups the quotients of bloodletting, sadism, and underlying iciness. He filmed much of the picture with HD photography - thus capturing a broader range of imagery and a much blacker darkness in his nighttime sequences - and lit a pivotal action scene exclusively with red laser gun sights. The result is a thoroughly unique and unprecedented work. ~ Nathan Southern, Rovi
Critic Reviews for Macbeth
Audience Reviews for Macbeth
½
While often campy and not too recognizable as an adaptation of Shakespeare's classic thriller, the contemperary gangster film incarnation of "Macbeth" does have its moments of being tense and compelling and holds strong characters, a notable and cool soundtrack and I believe to be an intense and rather satisfying conclusion. However, as I've stated, the film is slow at points and presents itself more as a gangster film than a recreation of "Macbeth". As for the edgier parts, some violence and nudity is inappropriate, though not as gratuitous or relied upon as the critics would have you believe. (Especially when you're comparing to Polanski's version) Ultimately, Geoffrey Wright's "Macbeth" makes for a better general film than it does a modern take on the classic story, but still makes for a cool time-killer.
Cameron Johnson
Super Reviewer
½
"Be bloody, bold and resolute; laugh to scorn the power of man, for none of woman born shall harm Macbeth." A modern day Macbeth in a form of a gangster action film, bloody and violent. Sam Worthington (Macbeth) and Victoria Hill (Lady Macbeth) deliver brilliant performances. Excellent score by John Clifford White. A great film by Geoffrey Wright.
Magnus XXXX
Super Reviewer
½
A violent and daring remake of the Shakespeare play.Macbeth has been working as a local ganglord's right hand man for years and feels its about time he got the respect and admiration he deserves and should become a gang leader himself but the only way he can see himself doing this is if something bad happens to his boss.Cue lots of guns and blood as Macbeth loses his mind until the inevitable,bloody climax.A decent adaptation with the modernisation of the characters,the three witches especially,being interesting.A good film,if you can get past the old school shakespeare language!
Macbeth Quotes
There are no approved quotes yet for this movie.