The Situation
(2006)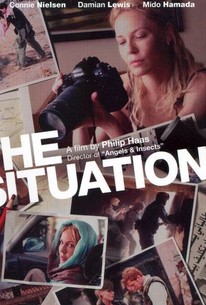 Movie Info
The war in Iraq provides the backdrop for this story of personal and political chaos from British filmmaker Philip Haas. Anna (Connie Nielsen) is an American journalist covering the fighting in Iraq in 2003. American forces have removed Saddam Hussein from power, but violence remains widespread on both sides, and many of the criminals and opportunists who attached themselves to Hussein's regime are scrambling for position under the American-authorized government. Anna has friends and allies on both sides of the conflict, and is romantically involved with two men -- Dan (Damien Lewis), a CIA operative who believes the future of Iraq depends on Americans working with moderate Iraqis and rebuilding the damage done in the war (beliefs that run counter to those of his superiors), and Zaid (Mido Hamada), a photographer from Iraq who is eager to leave his battered country behind and start a new career in the West. As Anna's loyalties are torn between these two men and their differing perspectives on Iraq, a scandal polarizes the nation when two Iraqi children are found dead after having been thrown off a bridge by American soldiers. The Situation was written by Wendell Steavenson, a former journalist who was inspired to write the script by her own experiences covering the Iraq war.
Critic Reviews for The Situation
Audience Reviews for The Situation
I found the movie to be interesting. If you are closed minded, you will not like this movie. To me it showed what I already knew: no matter your race or religion, there are bad guys and good guys on both sides. I felt that this movie showed both. Excellent acting from most. Well done, and rarely dull...
Cynthia S.
Super Reviewer
½
[font=Century Gothic]"The Situation" is an ambitious and well-meaning but talky movie about the SNAFU that is the Iraq War as seen through a group of interrelated thinly drawn characters who are just around to state various political positions which any of the fine documentaries from the past few years have done better. The two main characters, Anna(Connie Nielsen), a journalist who spends most of her time outside of the Green Zone, and Dan(Damian Lewis), an intelligence officer, are Americans and lovers. They also share an Iraqi source, Rafeeq(Nasser Memarzia). Anna uses him as a source on a story about American troops pushing two teenagers who were out after curfew off a bridge.(One swam to shore. The other drowned.) Dan sees Rafeeq as somebody who can help his cause, even though most of his superiors view him as a terrorist.(The movie is kind enough to point out that most Iraqis are not terrorists. At the same time, Anna and Dan are naive enough to think any good would come of the American invasion.) In Iraq, it is frowned upon to say the least to work for the Americans(not differentiating between the press and the government) which is a tightrope that Zaid(Mido Hamada), a Christian photographer who just obtained his first passport, walks daily. This is a solid setting for a movie but it lacks true focus. The incident on the bridge would have been a good one but it is only brought up occasionally, while the movie heads off on various tangents. [/font]
The Situation Quotes
There are no approved quotes yet for this movie.