Delirious
(2007)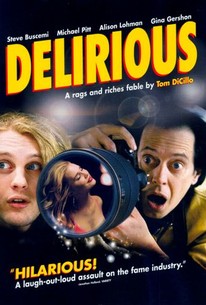 TOMATOMETER
AUDIENCE SCORE
Critic Consensus: A funny, energetic satire of the paparazzi life and the entertainment industry, Delirious is another winner for indie helmer Tom DiCillo.
Movie Info
Small time celebrity photographer Les Galantine has a big mouth and big dreams, but he can't quite talk himself into the right parties to get that one great exclusive photo. He meets Toby, a homeless kid who is drawn to the bright lights of New York City and "hires" him as his assistant. Les pays Toby nothing but room and board but the two are drawn to each other and become friends. Although Toby enjoys the glamour and excitement of Les' lifestyle, he has dreams of his own--to become an actor. Luck intervenes for Toby when he accidentally meets K'Harma Leeds, a beautiful pop diva. As their unlikely love blossoms Toby finds himself torn between a chance to follow his dream and to fulfill his obligations to Les. This conflict deepens when Toby leaves Les and lands a part on a reality show, partly by sleeping with the show's casting director Dana. As Toby's fortunes continue to rise, Les tries to reach out, while also maintaining a bitter resentment toward his former protégé.
News & Interviews for Delirious
Critic Reviews for Delirious
Audience Reviews for Delirious
½
I always jump at the chance to watch Steve Buscemi work, and here he is at his most acerbic self, playing a paparazzi with delusions of grandeur opposite Michael Pitt who does a creditable job as Toby, the homeless young man that Buscemi takes in (and takes advantage of). The story ostensibly is about their relationship - that of a loser who gets a chance to play Svengali to a naive yet grounded young man who had come to New York hoping to find an acting gig. While this story is interesting what makes the film compelling is that it really gets inside the media/stardom riff. Buscemi's character "Les" (hint hint) points out that those that take the picture are just as important as the stars themselves, because without the pictures there'd be no magazines and without the magazines there'd be very little to keep the stars in the spotlight. The film further exposes the stardom hierarchy (as perceived by the stars themselves). There's A list and B lists galore, and even an "all access" press pass has levels of true access. It's this farcical nature and twisted reality that Les rails against (in Buscemi's own brash, yet wounded soul way); although his tough exterior hiding a pitiful guy with low esteem riff does get a bit tired by the end of the film. He keeps telling Pitt that the stars are no different from you and me, but yet gets completely tongue tied when he gets the chance to meet Elvis Costello. Yep, Les is a sad loser, one of those who exist on the fringe of society - wanting to be noticed, but without the charm and charisma to make it happen. Even his small victories seem hollow as his parents totally dismiss the fact that one of his pictures got a quarter page spread in one of the trash weeklies. The film also features Alison Lohman doing a nice turn as a coddled Britneyesque music star that the story of Toby and Les revolves around. The film pokes fun at this type of character by showing a compellingly bad music video of her latest "hit", and then later as she and Costello discuss doing a musical about the life of Brittney Spears - life imitating art, imitating crap. Gotta love it! Overall I felt that the film could have been tighter. There were scenes that went on too long as if searching for some magical riff that never occurred, and at times the pacing dragged, but overall, while stylized, it did give an intriguing look into the star machine while also offering solid performances by the two leads.
paul sandberg
Super Reviewer
This might be a variation on the rags to riches story, but it is also a charming, touching, and insightful look at the world of celebrity, mostly from the perspective of a photogrpaher. He prefers the term "licensed professional", but it is obvious that Les Galantine (Buscemi) is just an obsessive compulsive and desperate member of the oft-loathed paparazzi. One day he crosses paths with an odd homeless actor named Toby (Pitt) who is genuine, maybe a little off, and aimless. Les takes Toby under his wing, providing him with food and shelter, and a job as his assistant. Along the way, Toby gets a break, and his friendship with Les goes downhill. I thought I knew where this film was headed, but then became surprised when it started to take a dark turn. I was even more surprised when the ending took where I thought it was going and suddenly turned the other way. Good job, DiCillo. I salute you. Buscemi and Pitt are amazing, and the support cast, including Kevin Corrigan, Gina Gerson, and Alison Lohman are likewise fantastic. This has indie film plastered all over it, but that's not necessarily a bad thing. It's insightful and engaging without being pretentious, and it doesn't feel forced or fake like a Hollywood version might. Give this one a shot. It's pretty good, and kind of puts things into perspective as far as celebrity photographers go. I'm not saying I totally respect those people now, but it makes me not hate them as much.
Chris Weber
Super Reviewer
½
I really enjoyed this movie. Hollywood has always fascinated me. Watching both sides of the celebrity vs. paparazzi issue was quite interesting. Good acting. Good storyline. Very enjoyable, in my opinion.
Cynthia S.
Super Reviewer
Delirious Quotes
There are no approved quotes yet for this movie.