The Happening
(2008)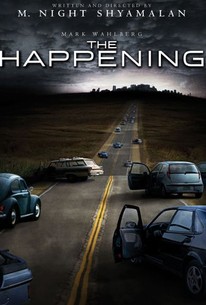 Movie Info
"The Happening" is a lightning-paced, heart-pounding paranoid thriller about a family on the run from an inexplicable and unstoppable event that threatens not only humankind, but the most basic human instinct of them all--survival.
News & Interviews for The Happening
Critic Reviews for The Happening
Audience Reviews for The Happening
Such a good premise to build off of, but it fails horribly in terms of acting and writing. The movie caused me to laugh a lot more then I wanted to. This was not a thriller. This was trash.
Nikhil Nandu
Super Reviewer
Almost everything is so godawful about "The Happening" that it's practically impossible to pinpoint just one thing to critique about it. M. Night Shyamalan, who many thought had hit rock bottom with "Lady in the Water" actually delivers a film even worse than that. An inexplicable natural disaster is causing people to commit suicide and that sets in motion a tale of survival that has the potential to be quite thrilling. Instead Shyamalan struggles to build a fully realized film out of this one idea. What ultimately kills the film for good is the ultimate explanation, which is one of the most absurd in a major motion picture. Poorly conceived "The Happening" is potential gone bad. Really bad.
Tony Gandía
Super Reviewer
I have mixed feelings with this one. Amid all the bad reviews, I found myself intrigued by the premise and the tension was nail-biting and kept me on-edge throughout the whole movie (I kid you not... the whole blowing trees and tension music drove me crazy at times). However, I understand why some might not feel as on-edge as me, as I realized that there was not much happening in "The Happening".
The Happening Quotes
| | |
| --- | --- |
| Elliot Moore: | Why won't somebody give me a goddamn second?!? |
| Elliot Moore: | Why won't somebody give me a goddamn second? |
| | |
| --- | --- |
| Alma Moore: | We ate tiramisu together. That was it. I told you that would be it. |
| | |
| --- | --- |
| Principal: | There appears to be an event occurring. |
| | |
| --- | --- |
| Alma Moore: | It makes you kill yourself. Just when you thought there couldn't be any more evil that can be invented. |