Deep End
(1971)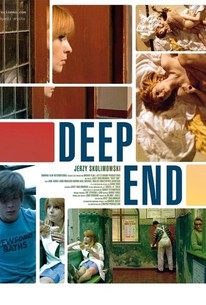 Movie Info
Set at the fag-end of the '60s in a decidedly unglamorous and unswinging London (though actually filmed, very persuasively, in Hamburg), Skolimowski's pleasingly skewed variation on the coming-of-age sex comedy posits a bizarre, totally unsentimental education for its adolescent protagonist (Moulder-Brown), a somewhat naïve school-leaver newly employed at a run-down swimming baths and obsessively pining for a colleague (Asher). Often very funny, and blessed with pounding Can numbers on the soundtrack, it's an original and offbeat delight whose mix of eccentricity and gentle social satire have ensured its enduring status as a cult movie. It's good to have it back in this new digital restoration.
Critic Reviews for Deep End
Audience Reviews for Deep End
½
This was a transcendent movie experience. Then, at the last second, Cat Stevens broke into the soundtrack and was able to kill the buzz of this movie that somehow combined the sensibilities of Godard and Truffaut ... once you sift out stuff you might see from Roeg and Lester. If Cat Stevens had sang the same song in the last 30 seconds of Taxi Driver, it would have been only slightly less appropriate. Otherwise, throughout the movie, there's a German rock group called "Can" playing a disturbingly modern but tonal score that pulses forward and wants to date the movie in the future, like 1980 -- a scary addition to a movie with two characters who are always rushing ahead of themselves. There is great handheld camerawork that stays warm and intimate with characters at high speeds. Highly recommended, but to avoid what for me was a major buzz kill, a friend has to illegally rip the movie from the blue-ray restored edition and use his/her computer to replace the Cat vocal at the end with some Can.
Adam Mahler
Super Reviewer
Skolimowski's theatre of the absurd, sharing a lot of style and approach with Polanski (both were partners in crime for "knife in water") has to be one of the most overlooked and brilliant rites of passage in British cinema. The kind of film so great in its simplicity that makes you think how in hell you didn't come up with something like that for a start. As the main character, I also have a soft spot for ginger, delicate Jane Asher.
Pierluigi Puccini
Super Reviewer
Deep End is a practically unheard of film these days - but it's a surprisingly good one that urgently needs a bigger audience. The film is basically a coming of age story involving young love and teenage angst. Despite the fact that everything in this film has been seen before in other films, it all comes together well and doesn't feel like it's just rethreading old ground, which is very much to it's credit. Writer-director Jerzy Skolimowski does a really good job of telling his story too, which means that deep End is an easy film to get along with. The title refers to the film's central location - a swimming pool. We focus on Mike, a young lad fresh out of school who has just got his first job as a pool attendant at the local bath house. On his first day, he meets the beautiful Susan and falls head over heels in love with her. Trouble is, Susan already has a fiancé and while she kind of likes Mike, she doesn't take him seriously...leading Mike to become frustrated and willing to do anything in order to have Susan all for himself. The two central performers are really good and responsible for a lot of the film's success. Jane Asher is absolutely beautiful and it's easy to see why she'd have a young lad lusting after her. Horror fans will likely recognise John Moulder-Brown from classic horror The House That Screamed, as well as Hammer Horror Vampire Circus. He's good here too, and expertly captures the immaturely and lust of youth. The film itself is always interesting and the director keeps the central relationship at the forefront of the film, which helps to keep things interesting. The film is set in 1970's London, and the director does a good job of capturing the gritty feel of the city. A lot of the film takes place inside a swimming baths, but sequences that take place in sleazy corners of the city are among the best of the film. The director does have an eye for sleaze too - some of the bath house punters are rather shady characters, and we've also got scenes set inside a prostitute's room and an adult movie theatre. The ending is iconic and memorable, and manages to tie up all the film's central themes. Overall, this really is a very good film that more people need to see!
Cassandra Maples
Super Reviewer
Deep End Quotes
There are no approved quotes yet for this movie.