Catacombs
(2008)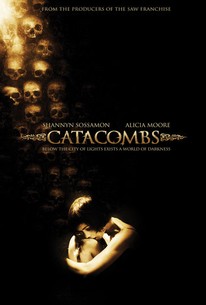 AUDIENCE SCORE
Critic Consensus: No consensus yet.
Movie Info
The producers of Saw shine a little darkness on the City of Lights in this grim thriller about a naïve American visiting her sister in Paris, and the horror that unfolds as they descend into the city's vast Catacombs for a wild underground rave. Victoria (Shannon Sossamon) has never been to Paris, but when her sister Carolyn (Pink) invites her to an upcoming party, the prospect of living it up in the most romantic city on Earth proves too powerful to resist. Shortly after arriving in Paris, Victoria and Carolyn venture deep into the 200-mile limestone labyrinth constructed with the bones of seven million Parisians. Later, after getting separated from her friends, the frightened American can't help shake the feeling that someone - or something - is stalking her every move; just waiting for the perfect moment to spring forth from the darkness.
Critic Reviews for Catacombs
All Critics (3) | Fresh (0) | Rotten (3) | DVD (3)
It's not exactly a thrill a minute... However, like a rundown house, the major selling point of this yarn is its eerie location.
a dreadful bore from start to finish
March 7, 2008 | Rating: 1.5/5
Remarkably unpleasant and pointless virtually from start to finish...
Audience Reviews for Catacombs
I finally watched this movie, and unfortunately, I've regretted it ever since. The movie is about an american who goes to visit her sister in Paris, and while they are at a party in the underground catacombs, the american is lost and is stalked by a mythical creature. The movie was very predictable. *WARNING MANY SPOILERS* The twists at the end, I saw coming. Twists, if correctly done, should leave the viewer speechless or shocked. The "twists" in Catacombs however did not. The first twist was that there was no mythical creature (shocker!). I saw this right from the beginning. The American girl is just paranoid about the whole thing, it was just a prank by her sister and her sister's friends. No surprise there. The second twist was when the American killed her sister, and everyone that was involved with the mythical creature prank. Surprise! Ha, not really. She had an axe in her hand- the director wouldn't have made her carry the axe around if she wasn't going to use it! The acting was also VERY poor. All the actors could've been replaced by dogs and the movie wouldn't have changed...well it might've been more entertaining. All the characters are so unlikable. The American is obnoxious and is a scaredy cat. Just grow the hell up already. Man up, dammit. 95% of the movie is her running and screaming through the catacombs, and guess what? No one is even chasing her. You KNOW no one is chasing her, yet she continues to act like an idiot. The sister is incredibly cruel- kind of like my sister-but my sister isn't as bitchy as that. The sister, as well as the rest of her friends, are incredibly unlikable. They are rude, mean and don't really give a crap about anyone else. The movie is very dull and boring. You know, or SHOULD know what is about to happen throughout the movie. The twists are predictable, so really they shouldn't even be considered "twists". The acting is boring and cheap- as well as the entire movie itself. If you like watching a not really attractive girl running from nothing through tunnels while screaming her ass off- then this movie is for you!
i thought this would be a good horror but it really isnt, athough the acting is good and believeable te storyline and concept is ridiculas and stupid. and then the ending was even worse! It isnt scary and i dont enjoy movies tha spend half its time on one character wondering aout in tunnels! Not a great horror at all i certainly wouldnt recommend it!
Film Crazy
Super Reviewer
I think this had potential with a good location for a horror, but overall it's no where near what it could have been. If this was a short story it might have been better but even at 85mins it feels way too long. The majority of the film features the girl running and screaming through tunnels in the darkness.....followed by more running through dark tunnels! The twist ending did start to become a bit obvious, well the first part anyway, and it has been done much better in many other horrors. If you did like this check out the more like this section.
Catacombs Quotes
There are no approved quotes yet for this movie.