The Burrowers
(2008)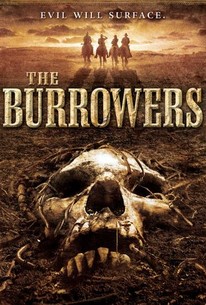 Movie Info
When a family of Dakota Territory pioneers is violently abducted and a posse is assembled to venture into the badlands and rescue them, the frightening truth they discover in the hills leads them to believe man may not be the only hunter stalking the Old West. The year is 1879, and beyond the fringes of civilization a handful of courageous pioneers maintain settlements while exploring the unknown territories. One night, under the shimmering Western stars, a family from one of these settlements is brutally dragged into darkness by a group of unknown invaders. At first the kidnappers are thought to be hostile Native Americans, and a posse forms to bring the family back home safely. Venturing out into the unmapped territories is an Irish immigrant desperate to find his lost love, a naïve teen eager to prove his worth, a former slave seeking his fortune after gaining his freedom, and a hardened pair of battle-weary Indian fighters. But nature's wrath and the tomahawks of hostile tribes aren't the only threats that this group will be forced to contend with, because as the bodies begin to multiply and the truth about the abductors gradually emerges, these rescuers will find out that there are forces in this world that can't be described in human terms -- and that seem to have motivations beyond our comprehension. Clancy Brown, William Mapother, Sean Patrick Thomas, and Doug Hutchison star in Soft for Digging director J.T. Petty's subterranean Western shocker.
Critic Reviews for The Burrowers
Audience Reviews for The Burrowers
A missing family out on the Dakota plains 15 years after America's Civil War is reason for a riled search party hunt, sure that "them dammed injuns" are the cause (ala The Searchers), and the start of this interesting Wild West/horror genre mashup. What they discover makes for nice thrills, nothing too heart pounding, but still nice. See it after dark for optimum effect. Creature features.
Kevin M. Williams
Super Reviewer
I had heard many things about The Burrowers and I was intrigued by its idea. What I've seen here is a fine low budget affair, one that tells an engaging story with using straight to the basics horror elements in order to deliver a worthwhile viewing experience. The cast assembled here are terrific, and this is among the finest monster films that I have seen in a while. The film has plenty of tense, thrilling moments, and it is an entertaining movie that will surely appeal to viewers tired of remakes. The cast do what they can with the material, and they make something worth seeing. This film exceeded my expectations and I didn't expect to enjoy it like I did. However I did and I recommend this one if you want a movie that is pure horror, the way it is supposed to be seen. Sure, the film has its flaws, but there are enough effective elements here to make it interesting and thrilling for those wanting an effective. The film is awesome and in many ways it reminded me of The Descent, I would say it is a close second with The Descent, and it is a good looking movie with tremendous atmosphere and it works. The Burrowers is a well thought out horror film that you're sure to enjoy if you're in the mood for an effective shocking picture that will keep you hooked from start to finish. I really was surprised by the movie and I was skeptical, but the story, though not original was well layered and structured to work well enough from start to finish. Worth seeing if you want an entertaining monster movie.
½
A pretty solid horror western film. Plus Clancy Brown!!!!!
Ken Stachnik
Super Reviewer
The Burrowers Quotes
There are no approved quotes yet for this movie.