The Midnight Meat Train
(2008)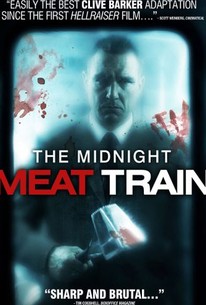 TOMATOMETER
AUDIENCE SCORE
Critic Consensus: A creative and energetic adaptation of a Clive Barker short story, with enough scares and thrills to be a potential cult classic.
The Midnight Meat Train Photos
Movie Info
Struggling photographer Leon Kauffman's obsessive pursuit of dark subject matter leads him into the path of a serial killer, Mahogany, the subway murderer who stalks late-night commuters -- ultimately butchering them in the most gruesome ways imaginable.
News & Interviews for The Midnight Meat Train
Critic Reviews for The Midnight Meat Train
Audience Reviews for The Midnight Meat Train
½
Vinnie Jones is one bloody scary marvel to behold in this update-and-then-some riff offa Hitchcock's Rear Window. While Bradley Cooper is good in the Jimmy Stewart dumbfounded photographer role, he is incapable to deliver the intended twist at the finale.
Kevin M. Williams
Super Reviewer
Wow this is a really good film, very bloody, very gorey and very well made. The cast are not well known unless you know who Vinnie Jones is hehe everyone is really good in their roles and it really makes for a tense, edge of yr seat ride. The story starts out as a routine slasher type gore fest but slowly grows into something much more curious, so much so that I don't really understand what happened at the end and why haha I want to find out though as it was really interesting and turned this from a basic splatter machine into an almost mythical religious cult type story....or thats what it appeared to become right at the end. I don't normally like these type of horror films but the inclusion of Jones as the main villain made me wanna see this, his acting is speechless literately haha yet his Lear's and shark like movements are pretty effective....not bad for an ex Wimbledon nut cruncher lol love ya Vinnie Top notch flick
Phil Hubbs
Super Reviewer
What can I say about this rather interesting film? Well, I was recommended it by one of my friends as a very scary, very violent film, I believed him and decided to rent this film relatively soon after. Unfortunately, the film is not as spectacular as I had hoped... The Midnight Meat Train is about a train in America on which there is an evil Vinnie Jones waiting with his meat cleaver to kill you! While this is happening, a budding photographer is trying to capture the true grit of New York and begins to find this man and find the train he goes on, unveiling the story of the train itself. What really got me annoyed with this film was the number of times there was way too much blood, or the blood, violence and gore was shown, which turned many scenes that could have been tense and scary into something ridiculously funny! For example, there was a kill scene where this guy is smashed round the face by an instrument and his eye comes out as he dies. This woman tries to run away, but slips on his eye! I'm sorry, but that's down right ridiculous! The only bit I found disturbing was the scene where Vinnie cuts off warts from his body and puts them in jars. But that was unnecessary and pointless if you ask me! All negatives aside the film was average, with a clever and dark ending. I would really like someone to do a better remake, because the story and end is good, but the presentation is sloppy in this version!
BG Movie Reviews 2011
Super Reviewer
The Midnight Meat Train Quotes