The Lucky Ones
(2008)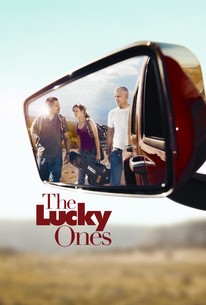 TOMATOMETER
AUDIENCE SCORE
Critic Consensus: The Lucky Ones features heartfelt performances, but is undone by the plot's overwrought parade of coincidence and contrivance.
Movie Info
When three very different U.S. soldiers find themselves on an unplanned road trip across America, they form a deep bond that may be the closest thing any of them has to real family. T.K. Poole, Colee Dunn and Fred Cheever arrive in New York from Germany only to find their connecting flights canceled due to a power outage. Anxious to get to their respective destinations, they agree to share a rented minivan to suburban St. Louis where Cheever is to reunite with his wife and teenage son. From there, the other two plan to fly to Las Vegas where the macho T.K. wants to make an important stop before seeing his fiancée and the tough yet naïve Colee plans to pay a visit to a fallen fellow-soldier's family. But, when Cheever's homecoming turns out to be a far cry from what he anticipated, the trio's one-day drive expands into an impromptu cross-country marathon. Along the way, they experience a string of surprising adventures ranging from the hilarious to the heartbreaking. As their interstate journey takes them from a barroom brawl to a high society dance to a bizarre Sunday morning church service, T.K., Colee and Cheever discover that home is not quite what they remembered and the unlikely companionship they've found in one another might be what matters most of all.
Critic Reviews for The Lucky Ones
Audience Reviews for The Lucky Ones
½
The Lucky Ones is one of those movies that surprised me, the trailer looked good, and it was a film that exceeded my expectations. Reading some of the reviews, I found that the film had its fair share of flack, and really I find this movie to be quite underrated. The Lucky Ones is a charming dramedy with a good cast of actors who have great chemistry on-screen. This film is quite good and it is an entertaining film with plenty of effective moments that really bring out the best out of the movie. The movie is far from perfect, but it most certainly doesn't deserve the negativity it has received. The Lucky Ones is worth seeing and what makes the film work very well is the fact that the characters are likeable and you sympathize with them. At first the movie is joyful, but then it takes a more serious turn, all the while keeping a humorous edge to the material, which makes this such a pleasant and surprising movie. The performance that surprised me the most was that of Rachel McAdams, who delivers one of her finest performances yet. The film is better than you might expect, and the story is very well layered to really make the film worth seeing. This is a terrific film worth your time, and it is far better than what the negative reviews has suggested. With a great cast, a charming, yet well constructed story, The Lucky Ones is a very good dramedy that is highly engaging from start to finish. The film's strength lies in its great characters and good performances, and with that alone, you can forget the film's shortcomings.
½
Good movie. Not the fastest moving drama, but just the right amount of things going on the keep my interest. Watching these three soldiers go through so many different phases of problems and issues was very interesting. We got to watch them get closer and closer to feeling like family together. A feel good movie? Not sure. I am torn between liking the ending, and wishing it went a different direction...but I guess it was realistic.
Cynthia S.
Super Reviewer
Rachel McAdams, Tim Robbins, Michael Pena After suffering an injury during a routine patrol, hardened sergeant TK Poole (Peña) is granted a one-month leave to visit his fiancé. However, when an unexpected blackout cancels all flights out of New York, TK agrees to share a ride to Pittsburgh with two similarly stranded servicemen, Cheever (Robbins), an older family man who longs to return to his wife in St. Louis, and Colee (McAdams), a naive private who?s pinned her hopes on connecting with a dead fellow soldier?s family. What begins as a short trip unexpectedly evolves into a longer journey. Forced to grapple with old relationships, broken hopes and a country divided over the war, TK, Cheever and Colee discover that home is not quite what they remembered and that the unlikely companionship. -Really liked this film a lot. Rachel McAdams was so good in this movie. Tim Robbins.. I mean he is one of the best actors out there. He was amazing as always. Really liked Michael Pena. I haven't seen him in many films and thought he was great. The acting, the script, all of it was great. It was funny, sad, and just really good. I would call this a dramedy. Really good watch.
♥˩ƳИИ ƜѲѲƉƧ♥
Super Reviewer
The Lucky Ones Quotes
There are no approved quotes yet for this movie.