Powder Blue
(2009)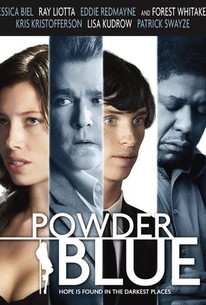 Movie Info
Ray Liotta, Forest Whitaker, and Jessica Biel topline this ensemble drama regarding intersecting lives on Christmas Eve from writer/director Timothy Linh Bui (Green Dragon). Liotta plays an ex-convict who tracks down his estranged daughter (Biel) after serving a 25-year jail sentence.
Critic Reviews for Powder Blue
Audience Reviews for Powder Blue
LMAO! Who wrote this? Some of the worst writing I have ever seen in a movie. The plot made no sense and the script told most of the story, not the action which would get some major points deducted if this was a film for my film class. I don't like Jessica Biel. She's pretty, but I just don't think she is a good actress. There's just something about her that seems fake when she's acting. I can never believe it, it's like I can tell that she's acting. I just don't think she's a convincing actress. But watching this movie was twice as bad because I had to deal with her acting AND her disgusting sinus issues. Whenever she was crying, snot would run- no, gush out of her nose. It was the most disgusting thing. She would have a huge string of snot hanging from her nose and in one scene she takes her hand, wipes it off and then pushes her hair out of her face using the snot covered hand! EWWW! That be nasty shit yo. So unflattering. Like yeah I get it, the director or whoever the hell made this piece of shit was like "I want it to be realistic! Like these are real people! With real tears and snot and shit." Well guess what? Real people don't run around with $50,000 in the back of their car asking hookers to shoot them dead. Seriously, who the hell wrote this garbage? This movie was really bad. The writing annoyed the hell out of me and it was just a weird movie overall. It didn't make any sense and I'm not sure why people in this movie were having so much trouble with their lives. It was just awful. Poorly executed, a waste of talent too because besides Biel there were a lot of good actors in this movie that tried so hard given the shitty material that was handed to them. I'm not sure why they would even want to be in this film. The script was so god awful, I suck at writing and I could've written a much better script. It just sounded so unnatural and so unrealistic and bad.
½
"Powder Blue" is the type of movie that everyone would love to hate! Personally, I think it is one of the more overshadowed films that were released in 2009. With many big name B-List actors involved, they really gave it their all to make this film as much as it is. It follows two separate plot lines that never connect, so I felt myself scratching my head sometimes, but the dark feel of strip clubs truly adds to the mood of suicide and broken romance. However, I must hand it to Eddie Redmayne, whose performance really had me engaging in the events of the film. There are many scenes that will have you rolling your eyes, due to the over dramatic attempts, but overall, it's a very low-budget stylistic film that will have you feeling every emotions the characters are feeling, and you will wish that death is always as peaceful as it is in this film. "Powder Blue" is a very solid drama!
One of those multi-layered, character films, whose lives overlap in one way or another. It has a fine cast, including Patrick Swayze's last role along side Ray Liotta, Forest Whitaker. However it will be more well known for the film where Jessica Biel plays the part of an "exotic dancer" and strips off. It's main theme is one of loneliness, despair and seeking companionship. It's ok but some story lines are weaker than others and the ending seems a little rushed. Overall ok for a one time watch.
Powder Blue Quotes
There are no approved quotes yet for this movie.