House
(2008)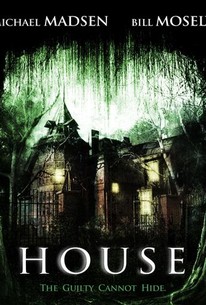 Movie Info
On a deserted back road in Alabama, Jack and Stephanie find themselves driving fast and running late. Their world suddenly changes when a strange accident leaves them stranded with no car, no cell phone coverage, and no help in sight. They have no choice except to continue on foot. As darkness approaches, they round a bend and see a small sign at the top of a long gravel driveway: The Wayside Inn. The exhausted couple stands in front of an inviting house, complete with gated stone wall, ancient oak trees, and a note welcoming weary travelers. Inside they find another couple with an equally troubling story about a similar accident. It seems that backwoods pranksters have made their day miserable. Still, they are safe. Or, so they think.
Audience Reviews for House
Stewart: You're all the sorriest bunch of sinners I've ever seen! "The Guilty Cannot Hide" House is an awful Christian themed, psychological horror film that doesn't really offer anything new to the "stuck in a house with a killer" storyline. The film is weak in scares, is terribly acted, and the writing is beyond bad. I'm beginning to wonder why Michael Madsen continuously shows up in awful direct to DVD bullshit like this. He's the "big name" in this cast and he's only on screen for probably 10 minutes of the movie.  Two couples who both blow their tires on the same abandoned road in rural Alabama find shelter in a bed and breakfast style house on the same road. The people who own the place are a bit odd and when a lunatic shows up outside the house telling them that he needs one dead body before sunrise or all of them will die, the four visitors begin searching for a way out. The staff doesn't offer them to much help either. As a horror fan, I'm always willing to give movies like this a chance to surprise me, but in the end, House was nothing but a waste of time. The movie is stupid, cliche, and chock full of mistakes. I get what the movie was going for, but it was done very lazily and uses familiar devices to try to get that point across. It's predictable and pointless. Pass on this one.
Melvin White
Super Reviewer
½
A pretty good horror flick with an interesting twist.
Jacob Palacio
Super Reviewer
½
Saw this one after my mom recommended it and have to say I rather enjoyed it. It's better than Haunting in Connecticut but not as good as Last House on the Left, in my opinion.
Jason Owens
Super Reviewer
House Quotes
There are no approved quotes yet for this movie.