My Sister Eileen
(1942)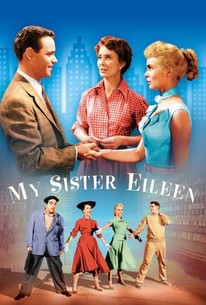 Movie Info
Rosalind Russell plays aspiring Ohio journalist Ruth Sherwood, who heads for New York to seek her fortune, accompanied by her sister, Eileen (Janet Blair), an aspiring actress. The girls take a basement apartment in Greenwich Village, which becomes a gathering place for several oddball characters, including a football jock (Gordon Jones), his silly wife (Miss Jeff Donnell) and an eternally drunken fortuneteller (June Havoc). Ruth tries to sell her writing, but is advised by a friendly magazine editor (Brian Aherne) that she'll never succeed unless she writes from her own experiences. Meanwhile, Eileen is continually getting in trouble due to her ingenuous attractiveness. Ruth secures an assignment to interview several visiting Portuguese sailors, who follow her to her apartment, are immediately entranced by Eileen, and break up the joint with an impromptu conga line. Everyone ends up in jail, and it looks as though Ruth is going to have to leave New York without achieving success. But when Ruth begins writing about her life with her sister Eileen, she becomes a success -- and wins the love of the magazine editor in the bargain. My Sister Eileen was based on a series of autobiographical articles by real-life writer Ruth McKenney, who with Joseph Fields and Jerome Chodhorov adapted these stories into a Broadway play. The play was later musicalized for the stage as +Wonderful Town (again with Rosalind Russell), while the film version was itself adapted into a separate movie musical in 1955. There was also a brief 1960 TV series, starring Elaine Stritch and Shirley Bonne. As an added fillip, the 1942 My Sister Eileen includes a fleeting guest appearance by the Three Stooges!
Critic Reviews for My Sister Eileen
Audience Reviews for My Sister Eileen
Very delightful movie. The high jinks of the girls in New York is tremendously funny and the surprise cameo is great.
John Ballantine
Super Reviewer
Roz makes this rollicking good fun. Cute situations and good supporting performances add to the overall quality of this. Make sure you see this and not the very average musical remake from the 50's.
A classis film starring Rosalind Russell. The film centers are on two sisters from Ohio moving to NYC in 1942. One sister named Eileen the beauty is an aspiring actress and the other Ruth a writer both find a place and have many crazy adventures....check this out!
Mason Williams
Super Reviewer
My Sister Eileen Quotes
There are no approved quotes yet for this movie.